The nine main causes for failures of U.S. Army GMC trucks were outlined on the back cover of Army Motors, Dec. 1944.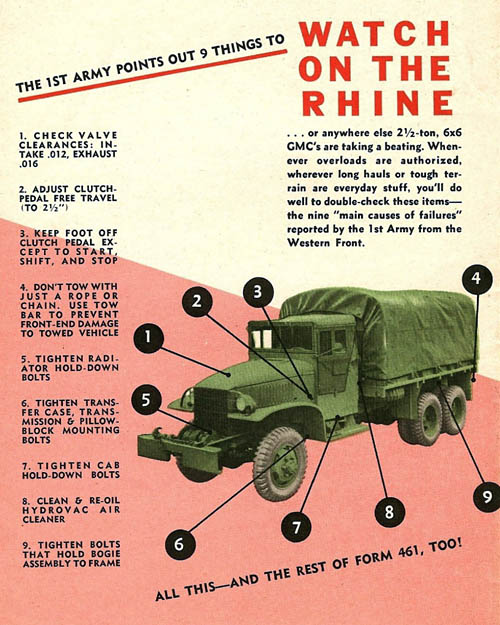 THE 1ST ARMY POINTS OUT 9 THINGS TO
WATCH ON THE RHINE
… or anywhere else 2½-ton, 6×6 GMC's are taking a beating. Whenever overloads are authorized, wherever long hauls or tough terrain are everyday stuff, you'll do well to double-check these items the nine "main causes of failures" reported by the 1st Army from the Western Front.
1. CHECK VALVE CLEARANCES: INTAKE .012, EXHAUST .016
2. ADJUST CLUTCH-PEDAL FREE TRAVEL (TO 2½")
3. KEEP FOOT OFF CLUTCH PEDAL EXCEPT TO START, SHIFT AND STOP
4. DON'T TOW WITH JUST A ROPE OR CHAIN. USE TOW BAR TO PREVENT FRONT-END DAMAGE TO TOWED VEHICLE
5. TIGHTEN RADIATOR HOLD-DOWN BOLTS
6. TIGHTEN TRANSFER CASE, TRANSMISSION & PILLOW-BLOCK MOUNTING BOLTS
7. TIGHTEN CAB HOLD-DOWN BOLTS
8. CLEAN & RE-OIL HYDROVAC AIR CLEANER
9. TIGHTEN BOLTS THAT HOLD BOGIE ASSEMBLY TO FRAME
ALL THIS—AND THE REST OF FORM 461, TOO!

Related posts: