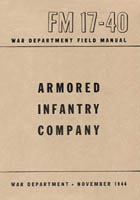 Antimechanized defense for armored infantry from the U.S. field manual FM 17-40: Armored Infantry Company:
Antimechanized defense is both passive and active.

(1) The troops are protected passively against mechanized attacks by the digging of fox holes and emplacements, the erection of barricades, tank traps, and mine fields, and by taking advantage of all natural obstacles in the area. (See figs. 1 and 2.)

(2) Active measures (fig. 3) include the placing of all antitank weapons in the best possible places to protect the personnel from hostile mechanized attack. Antitank guns and rocket launchers are used to destroy attacking tanks. Riflemen fire on tanks (directly at the vision slits) to aid in blinding the mechanized forces and make them keep hatches closed, thus preventing crews from throwing hand grenades in emplacements or fox holes. Individuals take cover in fox holes or emplacements in time to prevent being crushed. They come out of cover immediately after the tanks pass over in order to repel the accompanying hostile infantry.