Details and illustrations from a U.S. Naval Intelligence 1943 report on the Russian battleship Sevastopol: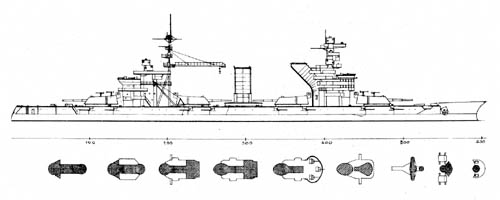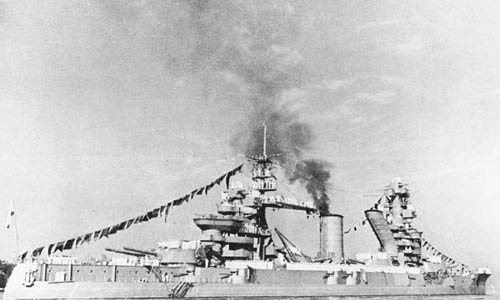 BATTLESHIP SEVASTOPOL
GENERAL SPECIFICATIONS

Date laid down: 1909.
Date commissioned: 1915.
Normal displacement: 23,000 tons.
Length overall: 594 feet.
Beam: 87 feet.
Maximum draft: 27 feet.
Type of machinery: Parson's Turbines.
Horsepower: 42,000.
Number of Propellors: 4.
Type of boilers: Yarrow.
Number of boilers: 25.
Full speed: 18 knots.
Cruising speed: 16 knots with a cruising radius of 4,000 miles.
Aircraft normally carried: 2.
Launching device: 1 catapult.
Fire control: director control.
Number of searchlights: 6.
ARMOR

Armor: Belt 8 3/4 inches amidships; 5″ and 2″ at ends; 3″ to 4″ internal belt.
Turrets: 12″ – 10″; 8″ barbettes.
Decks: 3″.
FC towers: 10″ forward.
The armor belt is about 15 feet wide, five feet of it being below the water line, of uniform thickness; there is a second 3″ or 4″ internal belt from 11 feet inboard above the protective deck extending between it and the barbettes. The space between the main and internal belts is divided up into water tight compartments.
ARMAMENT

12 — 12″ 52 caliber guns in triple turrets with a maximum elevation of 25°, a muzzle velocity of 2644 feet per second, and a maximum range of 30,000 yards.
10 — 4.7″ 50 caliber guns in casemates with a muzzle velocity of 2624 feet per second.
6 — 4.1″ antiaircraft guns.
3 — 3.9″ antiaircraft guns.
4 — 3″ antiaircraft guns.
The port plates above each gun are in the form of a hinged flap, allowing each 12″ gun to elevate to 25° maximum.
Arcs of fire: end triple 12″ turrets is 310° central turrets, 130° on each beam; the after 4.7″ gun, 90° the other 4.7″ guns, 85°.
Main battery guns in number 2 and number 3 turrets have been replaced by guns of a "higher caliber", reports indicate.
Number of torpedo tubes: 4 18″ submerged.
GENERAL

It is not believed that the modernization of this unit included an increased compartmentation of the hull as in the case of the other two units of this class. There is no evidence of external blisters having been fitted. The first stack was trunked aft, and a tripod foremast with FC top, and catapult have been fitted. Otherwise, the reconstruction does not appear to have been as extensive as on her sister ships.
This unit is reported to be most unhealthy, unsanitary and badly ventilated.
The Sevastopol proceeded from the Baltic Sea to the Black Sea in 1930 in company with the overage light cruiser Profintern. Her general condition, at that time was reported to be unfit and the official explanation of her remaining in the Black Sea was that she could not face the return voyage.
DISTINGUISHING FEATURES

The main deck level centerline disposition of the four large triple turrets is unique among existing capital ships, readily distinguishable from the air.
At long range on the surface, this vessel bears a faint resemblance to the Japanese battleship of the FUSO Class.