Swedish Fortresses, a new book on the B-17 in Sweden, has been announced by MMP Books.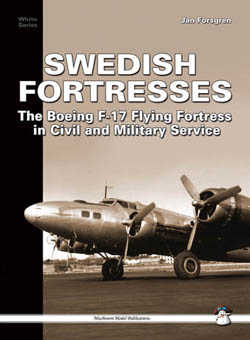 Swedish Fortresses: The Boeing B-17 Fortress in Civil and Military Service
Author: Jan Forsgren
Illustrated by: Teodor Liviu Morosanu and Nils Mathisrud
ISBN: 978-83-89450-87-6
A4 hardback plus 8 A2 foldouts, 128 pages with 64 pages of color.

Publisher's Description: Many USAAF aircraft landed in neutral Sweden during WW2. The Swedish authorities arranged to buy many of these from the US, to supplement their limited and aging aircraft stocks. The B-17 Flying Fortress was selected for conversion to an airliner, and Saab undertook the work. This book tells, for the first time in English, the story of these aircraft and their subsequent careers, in Sweden, Denmark and France. No other B-17s were ever used as airliners, so this is a unique addition to the well-known history of the Fortress. Illustrated with many photos, both contemporary and of surviving airframes, and with color profiles of the colour schemes carried by these aircraft. Detailed plans of the modified airframes are included. Story of the "Shoo Shoo Shoo Baby" restoration is included.