The February 7, 1944 issue of NEWSMAP illustrated Japanese uniforms, equipment, and insignia: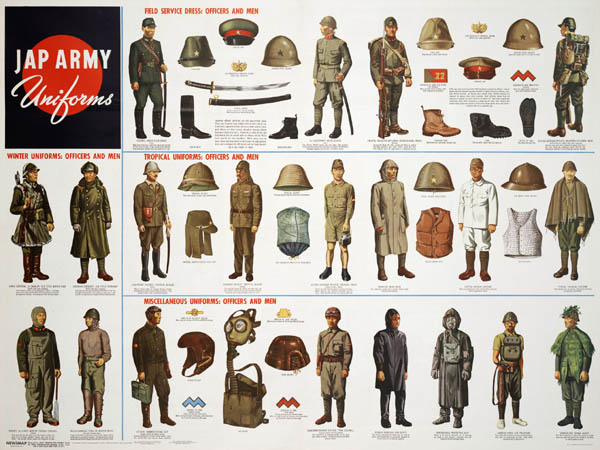 Two examples of the detail drawings:

PRIVATE, INFANTRY RIFLEMAN: M1938 BLOUSE, FRONT
Nitohei
Sampachi (Meiji 38) rifle, rubberized fabric or leather cartridge pouches; gas mask carrier under left arm. The chevron worn on right arm is a diligence stripe.



CAMOUFLAGE JUNGLE JACKET
The fibre material of which the jacket is made may vary with the color of the foliage in the area in which jacket is worn.
(For another view of the Japanese camouflage uniform, see Japanese Camouflage Garment, Tactical and Technical Trends, No. 14, Dec. 17, 1942.)
Source: NEWSMAP, Volume II, No. 42F, February 7, 1944 by Army Information Branch.
Related posts: