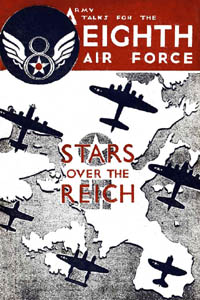 In January 1945, Army Talks published a special edition "Stars over the Reich" for the men of the Eighth Air Force. With a forward by commander Lt. General James H. Doolittle, the special edition told the story of the men and machines of the Eighth Air Force as the unit approached its third anniversary.

The centerfold graphic highlighted the accomplishments of the Eighth Air Force over Europe from August 1942 to November 1944: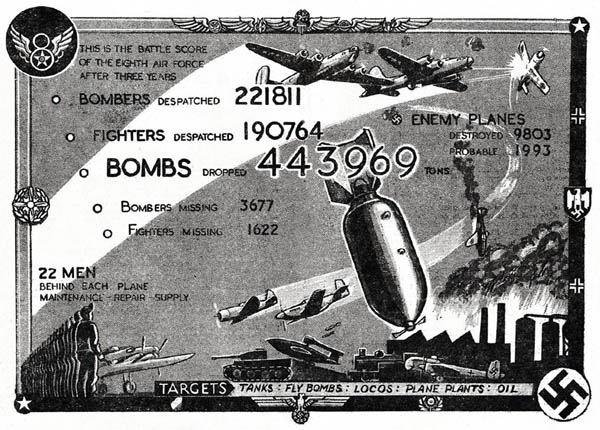 However, the Eighth Air Force really came into its own as long-range fighter escorts became available. The following map showed the increasing range of the escorting fighters: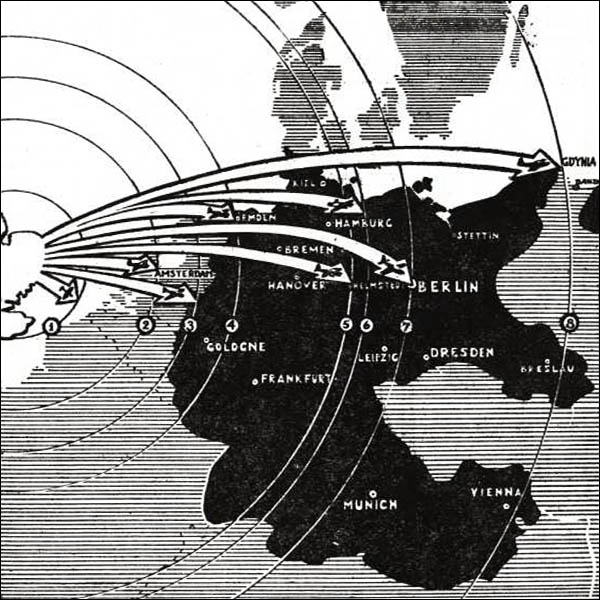 The Growth of Fighter Escort Range
1. For the first nine months of their operations the Eighth's heavies had little fighter escort over the Continent.
2. Beginning in May, 1943, the P-47s regularly escorted missions within a 200 mile range.
3. Fitted with auxiliary fuel tanks, on 28 July the P-47s extended their range to 260 miles.
4. Two months later technical improvements and new tactics enabled the Thunderbolts to escort the bombers to Emden, 325 miles distant, and over the borders of the Reich.
5. By March '44 the P-47s, with greatly improved fuel carrying equipment, had lengthened their escort range to Helmstedt, 470 miles.
6. In the same month P-38s, similarly equipped, began reaching the 500 mile mark.
7. On 6 March '44 P-51s made their appearance over Berlin, escorting the heavies, 560 miles from base.
8. Five months later, 6 August, the Mustangs broke all records for Eighth fighter escort range when they accompanied a bombing mission to Gdynia, in the Polish Corridor—a round trip of more than 1,600 miles.
Related posts: