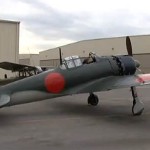 The authentic sound of a Japanese A6M5 Zero with a fully-restored original Mitsubishi Sakae radial engine. This particular Zero was built by Nakajima in 1943, captured by U.S. forces on Saipan in June 1944, shipped to the U.S. for evaluation, sold for salvage, and then eventually being purchased and restored by the Planes of Fame Museum in Chino, California.
More details from the video description:

This is the only WWII Japanese aircraft that is flyable today with an original Japanese WWII engine, the Mitsubishi Sakae 14-cylinder, Model 31 "Prosperity"…. This A6M5 Zero is owned by the Planes of Fame Museum located in Chino, California. In the late 1970s, this aircraft was restored to flying staus. The engine was restored by the Stewart-Davis Company in Long Beach, California….

This aircraft was built by Nakajima under license from Mitsubishi in May 1943 and was later captured by US Marines on Saipan in June 1944. It was then shipped to Patuxent River, Maryland in the US for evaluation. About 190 hours of flight time were logged during this evaluation, including some hours by Charles Lindbergh himself. After being declared surplus following the war, this aircraft was obtained by Ed Maloney in 1950.
A second video of engine startup of the same Japanese A6M5 Zero:

Related posts: