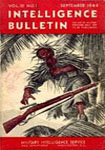 Vol. III, No. 1: September 1944
CONTENTS: JAPAN: Defense Plans for Eniwetok Atoll / U.S. Enlisted Men Discuss the Japanese Soldier / Use of Antitank Mines in the Arakan / A Gun That Sat on a Burma Bottleneck / Sniper Training / Japanese Landing Craft Most Frequently Encountered / New Japanese Uniforms / In Brief // GERMANY: Two Antipersonnel Mines / German Auxiliary Troops / In Brief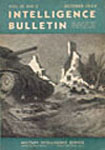 Vol. III, No. 2: October 1944*
CONTENTS: GERMANY: U.S. Enlisted Men Discuss Enemy Tactics in France / German Patrol Methods in Italy / German Forward Positions in Defense / Tank Talk / Recent Use of Mines in France and Italy // JAPAN: A General Review of Japanese Weapons / Defenses of Cape Torokina / Captured Japanese Rations May be Eaten // UNITED NATIONS: Patrolling in the Arakan / Bamboo Spike Jungle Traps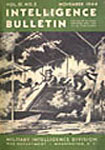 Vol. III, No. 3: November 1944*
CONTENTS: JAPAN: Ambush Works Both Ways / How We Fight — Mixed Jap Opinions / How the Japs Concealed Barge-Unloading Points / In the Admiralties — Fanatic Jap Rushes Withered by Steady U.S. Defense / Japanese Cave Defenses on Biak Island / "Home-Made" Offshore Obstacles / Diversionary Units / In Brief // GERMANY: German Antitank Weapons / Fougasse Flame Throwers / Tactics of Personnel Carriers Mounting Flame Throwers / Withdrawal Tactics in Italy / In Brief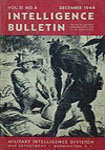 Vol. III, No. 4: December 1944
CONTENTS: JAPAN: New Pottery Land Mine Introduced on Leyte Island / Japanese Minefield Tactics in the Southwest Pacific / They Learned by Experience / Japanese Officers Hold a Critique / More Notes on Field Fortifications / Model 100 Grenade Launcher Produced in Two Types / In Brief // GERMANY: What Jerry Thinks of Us—and Himself / G.I. Comments on German Use of Fire Power / The S-Mine 44 and Its Igniter / A Tank-Infantry Team Observed in Combat / German Light Amphibious Car / German Assault Artillery / In Brief
COVER: Japanese troops laying hemisphere mines along a jungle road.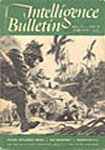 Vol. III, No. 5: January 1945*
CONTENTS: JAPAN: The Japanese G.I. / Tank Hunters / Japanese Combat Tactics / The Imperial Rescript / Explosive Bullets / 50-mm Smoke Grenade / Beach Mines // GERMANY: Pillbox Warfare in the Siegfried Line / A Battalion Commander Looks Us Over / The New 88 and Its Carriages / Notes on Tiger Tanks in the Battle for Florence / How the Germans Fight in Wooded and Broken Terrain / Deception, German-Style // UNITED NATIONS: Patrolling on Guam / How to Help the Enemy
COVER: A Japanese antitank assault team attacking a Sherman tank along a jungle road.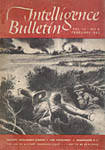 Vol. III, No. 6: February 1945*
CONTENTS: GERMANY: Fortress Battalions and How They Are Used / More Notes on Antitank Tactics / Discovered in Combat / Rounding Up the Booby Traps / The German Volkssturm / In Brief // JAPAN: Japanese Diversionary Tactics / The 150-mm Mortar / Enemy Mines on Leyte / Remote-Control Mines in Antitank Warfare / Portable Flame Throwers / New Japanese Army Insignia // UNITED NATIONS: British Raid in Burma / Ordnance Intelligence Teams Uncover Technical Secrets // Index to Volume III, Nos. 1-6
COVER: German bazooka teams in action against U.S. tanks.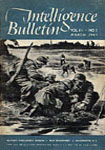 Vol. III, No. 7: March 1945
CONTENTS: GERMANY: Germany's Rocket and Recoilless Weapons / PW Interrogation: The Germans Mean Business / Mines in the Spotlight / How to Throw the Panzerwurfmine / In Brief // JAPAN: Leyte Veterans Talk About Japs / Mines and Booby Traps on the Burma Road / New Weapons For Jap Tank Hunters / New Weapons Captured at Ormoc / Is He Jap or Chinese?
COVER: German troops laying the antipersonnel Glasmine.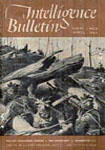 Vol III, No. 8: April 1945
CONTENTS: JAPAN: Breakneck Ridge—A Lesson in Jap Defensive Tactics / A Short History of Japanese Military Rifles / A Jap Report on U.S. Tactics / Japanese Development of Rocket Weapons / More Notes on Booby Traps and Firing Devices // GERMANY: Recent Minefield Doctrine / The Eismine and Other Mine Developments / Patrolling from Static Positions / Discovered in Combat—II / What the Germans Learned at Warsaw / In Brief
COVER: A Jap machine gun emplacement on the flank of a reverse-slope positon prepares to fire at American troops advancing against Breakneck Ridge during operations on Leyte.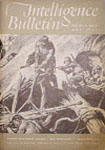 Vol III, No. 9: May 1945*
CONTENTS: JAPAN: Japanese Withdrawal Tactics in Central Burma / Iwo Jima / The Bamban Hills—A Prepared Defense of Rough Terrain / TNT—A Preliminary Report on Jap Demolitions in Manila / Shoot 'Em Back / In Brief // GERMANY: "The Heavy Mobile Punch" / Allied Combat Efficiency as the Germans See It / Remote-Controlled Machine Gun for Assault Guns and Tank Destroyers / Discovered in Combat—III / Note on the Schumine / New Trip Devices for Local Defense / The Panzerhandmine 3—A Magnetic Hollow Charge // UNITED NATIONS: The Red Soldier
COVER: The Japanese haul a disassembled 20-mm gun up a hillside to a cave position in the Bamban River area.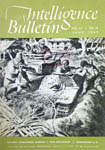 Vol III, No. 10: June 1945*
CONTENTS: JAPAN: Jap Defense of a Town—Tanks Join the Banzai Charge / "The Officers are Getting Knocked Off" / Japanese Field Artillery Methods / Minefield Patterns in the Defense of Iwo Jima / Kempei—The Japanese Military Police / Close Combat with Tanks / The New Juki / In Brief // GERMANY: "Why We Lost"—A Post Mortem of a German Commander / Tactics of a German Patrol / Concrete Stick Hand Grenade / In Brief // UNITED NATIONS: Soviet Infiltration Units in Mountain Warfare
COVER: Japanese tanks used in the defense of San Manuel, Luzon, were moved in and out of prepared revetments, where they could be employed as pillboxes.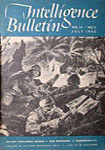 Vol III, No. 11: July 1945
The "Human" AT Mine / Combat Methods of Small Raiding Parties / Combat Lessons from Okinawa / Tombstone Hill / The Most Effective Jap Tank / How to Fight Americans—A Jap Commander's Pep Talk / Jap Weather / Japs' Booby-Trap Ammunition Dumps / Iwo Jima Was Ready—Japanese Plans for Defense / Lost in the Burma Jungle / A Jap Platoon Raid on a Battery Position / Smoke in the Attack / Japanese Counterlandings / New Notes on 8-mm Submachine Guns
COVER: A Japanese raiding party, having knocked out an outpost, prepares to open fire on a U.S. command post.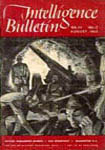 Vol III, No. 12: August 1945
CONTENTS: Latest Tactical Ideas / Jap Defenses in Batangas / Artillery on Okinawa / Jap Commando Units / Jap Walkie-Talkie / City and Town Defense / Okinawa and Iwo Defenders Well Fed and Equipped / The Jap Holes In / Jap Air Tactics at Okinawa / Jap Weather for September / Tank Warfare on Luzon / Armored Communications / Jap Railway Procedures / New Japanese Vehicles / Burma Pillboxes / Demolitions and Obstacles / Technical Notes / Small Island Minefields / Index to Volume III, Nos.7-12