The first recorded use of fougasse flame throwers in this war was in Soviet static defenses around Moscow in 1941. These fougasse flame throwers were remote-controlled cans with nozzles designed to be embedded in the ground and set off from a distance. Since the Germans have been on the defensive, they have used similar flame throwers.
The German type of fougasse flame thrower resembles the Soviet type. The cylindrical body, which carries the fuel, is of heavy cast-iron, with a height of 21 inches and a diameter of 11 3/4 inches. It has a capacity of about 8 gallons of fuel....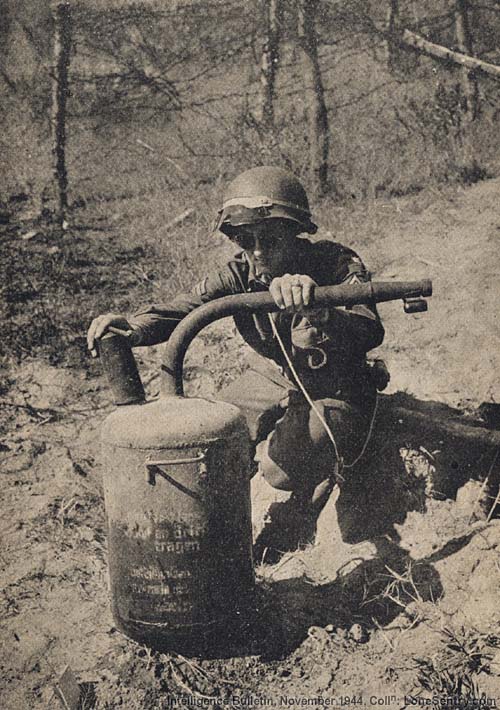 In practice, fougasse flame throwers have been found emplaced behind and among mine fields and barbed-wire entanglements. They are dug-in, and are covered with stone, earth, or other local natural materials so that only the nozzle shows. Proper camouflage of the nozzle makes detection difficult. In Italy, as many as seven flame throwers have been emplaced together. Groups are controlled from a central switchboard, from which run four wires to each flame thrower.... Reports by French officers and noncoms who have encountered the fougasse flame throwers state that the estimated jet of flame was 5 yards wide and 3 yards high, and that the range was 5 to 15 yards. Heat was intense 10 yards from the jet. The duration of the burst was only 1 to 1 1/2 seconds.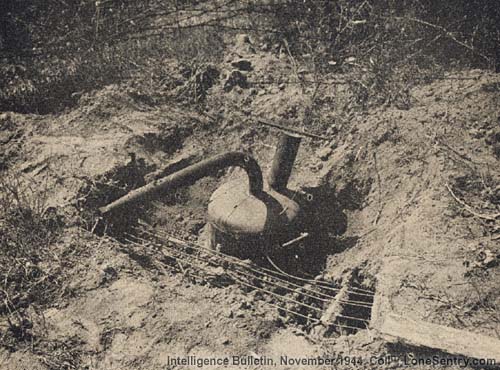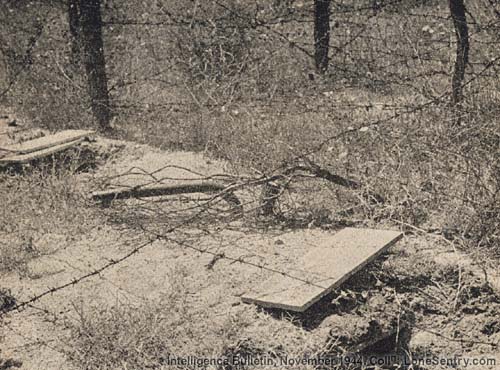 While flame throwers of this type may have a temporary psychological effect, it can be seen that they suffer from limited range and very limited endurance. Direction of fire must be predetermined, and it is unchangeable in action. The weapons are extremely immobile. Their control wires are subject to damage by preparatory mortar and artillery fire. While luck might bring about a few instances of considerable success, the general tactical value of the fougasse flame thrower is slight. As a weapon of fixed defenses, it may be classed with the anti-personnel mine and the booby trap.