If gas warfare is initiated in the present war, infantry occupying ground formerly held by German troops may meet with the signal flags illustrated in the accompanying sketch. They are warnings against areas contaminated with gas.
(a) Description
The set consists of 20 flags, 1 roll of marking tape, and a satchel in which the flags and tape are carried.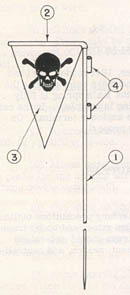 The warning flags are attached to 2-foot long, light iron rods (1) 3-mm (0.12 in) in diameter, painted red. The lower end is pointed and the upper 4 inches bent over at a right angle so as to form a pointer (2). Hanging from this is a triangular yellow cloth flag, (3) which has the skull-and-cross-bones device printed in black. At the top end of the upright portion, the rod has an extension device consisting of two metal eyes (4), enabling the flags to be mounted one on top of the other.
The marking tape for outlining contaminated ground is a light and water-fast dyed ribbon 0.8 inch wide. Two rolls each of 27 yards are wound on a papier-mache bobbin to form a roll.
The 3-pound carrying satchel is made of canvas, and the bottom is reinforced to prevent perforation by the rods. It has a side-pocket to carry the marking tape and is provided with an adjustable sling.
(b) Method of Use
When a gas scout confirms that the ground is contaminated, he places his flag in uncontaminated ground about 5 yards from the edge of the contamination, and with the pointer toward the area contaminated.
The interval at which flags should be set depends on whether the country is open or close. As a rule the interval should be about 20 to 50 yards. On ground which is covered with high vegetation, the extension device should be used and one flag placed above another.
When the forward limits of the contamination have been determined and marked with warning flags, the limits are made more obvious by means of branches, stones, etc., or by festooning trees and bushes with marking tape. This is particularly necessary in covered country, with scrub and brush, where there is a danger that warning flags cannot be seen.
If the contamination is likely to persist for some considerable time, the warning flags and marking tape will be replaced by warning boards and by wire barriers festooned with yellow streamers.