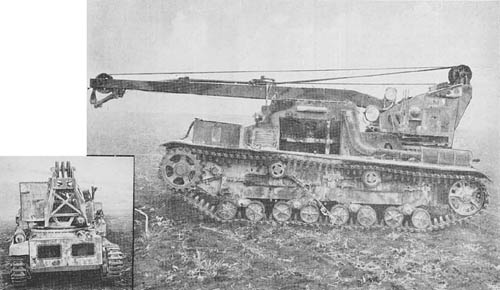 This is an armored, self-propelled crane designed to retrieve damaged A.F.V.'s up to a weight of about 12 tons. The manufacturing date of one recovered specimen is given as 1941. The crane is mounted towards the rear of the chassis on a platform traversing through 360° on an electrically powered turntable. The crane is prowered by the main engine through a drive shaft from the transmission to a gear box and thence through another box to the cable drums. The crane is controlled by three hand levers and three foot control clutches. When not in use, the boom which has a total length of 18 ft., 2 ins., rests on the top of the drive compartment and is held in place by two screw clamps. The conventional Japanese type of suspension is used. Four bell cranks are resisted by four armored compression springs per side. Eight-and-one-half-inch dual steel bogie wheels per side are mounted four inches apart and paired to each bogie. An 18 13/16-inch diameter double-tooth front drive sprocket, a rear idler, two 10 3/4-inch diameter rubber-covered return rollers, and the center guide steel track complete the suspension.
The driver's compartment measures 45 1/2 x 59 inches, and is fitted with a door on the right side. The 6-cylinder, in-line, air-cooled, Ikegai gasoline engine delivers 60 horsepower. The steering system is of the clutch brake principle, a separate spring-loaded clutch being fitted to each track. Two pressed steel fuel tanks are located at the right rear of the hull; an additional one is utilized as the driver's seat. They have a combined estimated capacity of 40 gallons.
SPECIFICATIONS
Weight
8 1/4 tons
Trailer load capacity
Length
14 ft., 4 1/2 ins.
Width
6 ft., 7 ins.
Height (to top of vehicle)
5 ft., 3 ins.
(to top of jib)
6 ft., 9 ins.
Ground clearance
11 ins.
Tread centers
Ground contact
11 ft., 4 ins.
Track width
9 3/4 ins.
Track links
Fuel tank
40 gals. (est.)
Fuel consumption
Fording depth
Speed
21 m.p.h.
Engine
Ikegai, gasoline, 6-cylinder, in-line, air-cooled, 60 hp.
Transmission
Steering
Clutch brake
Crew
2
Armor
Front
1/4 in.
Sides
5/16 in.
Length of cable drums
10 1/4 ins.
Diameter of cable drums
10 1/2 ins.
Diameter of cables
3/4 in. (approx.)
Overall length of boom
18 ft., 2 ins.
Japanese: p. 18.5 (August 1, 1945)