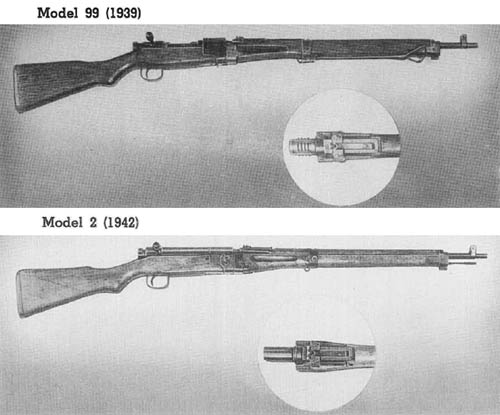 Both of the weapons shown above are basically the same as the Japanese 7.7 mm standard infantry rifle, Model 99. They have been designed, however, to incorporate a takedown feature which enables them to be used by paratroop units. Manufactured at Nagoya Arsenal, they are manually-operated, bolt-action, magazine-fed, clip-loaded rifles.
The modified Model 99 differs from the basic weapon in the following respects: the barrel locking adaptor is secured to the receiver; the barrel is secured into the adaptor by interrupted screw threads; the bolt handle is detachable; and the stock is in two parts.
The Model 2, called "Teraju" by the Japanese, is of much better workmanship than the Modified Model 99. The barrel and front end are detached from the stock at the receiver ring. When taken down, the barrel section is 25 1/2 inches long; the stock 20 1/4inches. Total weight of the loaded weapon is 8.9 pounds. The takedown system is simple and sturdy. The barrel has a straight, unthreaded shank with a lug on the bottom. The shank fits into a socket in front of the receiver. A tapered locking key passes through the receiver (from right to left) and engages in front of the barrel lug. The key cannot be taken out completely, but may be withdrawn far enough to allow removal of the barrel. It is locked in place by screwing a nut on the right side into the receiver wall.
A spring actuated plunger located in the front end of the buttstock locks the barrel and forestock in position. This plunger must be retracted before the barrel can be rotated for takedown.
SPECIFICATIONS
Weight
8.9 lbs.
Length
44″
Principle of operation
Manual, bolt-operated
Feeding device
Clip
Capacity of feeding device
5 rounds
Ammunition types
Model 99 rimless
Type of sight
Front: inverted "V" blade on "T" base; Rear: leaf graduated from 328 to 1,640 yds. with aperature sight and aperture battle sight side arms for A.A. fire.
Weight of barrel
Length of barrel
25 7/8″
Length of rifling
Rifling:
Twist
Uniform, right hand; one turn in approx. 10 ins.
Form
Metford segmental
No. of grooves
4
Depth of grooves
Width of grooves
Chamber pressure
Muzzle velocity
2,360 f/s
Maximum range
3,000 yds.
Effective range
600 yds.
Japanese: p. 212.1 (May 1, 1945)