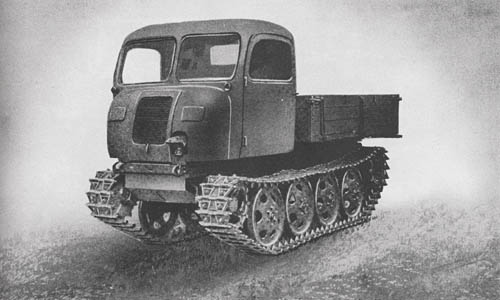 The German full track truck has recently appeared on the battlefield as a supply vehicle and prime mover. Basically it is a tracked version of the Steyr
1½-ton
truck. Designed to operate in mud and soft terrain, it has a tractive effort in first gear of 6,700 pounds, and carries a load of 3,360 pounds. This truck averages 3 to 5.5 miles per gallon of fuel.
The chassis is of rectangular form and welded construction and supports a forward-mounted, pressed-steel driving cab behind which is mounted a wooden truck body. A spring-loaded pintle is fitted at the rear and towing hooks in front.
The V-8 air-cooled gasoline engine made by Steyr develops about 70 hp. at 2,500 r.p.m. and is mounted in the floor of the driving cab. The drive is taken through a single plate clutch built on the flywheel to the transmission which has four silent forward gears and one reverse. There is a differential with a lock incorporated at the rear, and a reduction gear to the rear sprockets.
The suspension consists of four large pressed-steel disk wheels on each side which return the track. They are mounted in pairs and attached to a common even lever at each side and joined in the center by a cross member. A quarter elliptic spring anchored at each corner of the chassis is attached one to each end of the two common even levers. Steering is accomplished through upright steering levers to four hydraulic brakes on the sprockets and idlers.
SPECIFICATIONS
| | | |
| --- | --- | --- |
| Weight | | 7,728 lb. (unladen) |
| Length | | 14 ft., 6 ins. |
| Width | | 6 ft., 6 ins. |
| Height | | 8 ft., 6 ins. |
| Ground clearance | | 22 ins. |
| Tread centers | | |
| Ground contact | | |
| Width of track | | 13 ins. (with snow plates, 24 ins.) |
| Track links | | |
| Pitch of track | | |
| Fording depth | | 34 ins. |
| Theoretical radius of action | | |
| Roads | | 155 miles (est.) |
| Cross-country | | |
| Speed | | |
| Roads | | 11 m.p.h. |
| Cross-country | | 11 m.p.h. |
| Armor | | |
| Front plate | | |
| Sides | | |
| Armament | | |
| Ammunition (rds.) | | |
| Engine | | Steyr air-cooled 70 hp. |
| Transmission | | 4 speeds forward, 1 reverse |
| Steering | | Steering levers to hydraulic brakes |
| Crew | | 2 |
German: p. 57