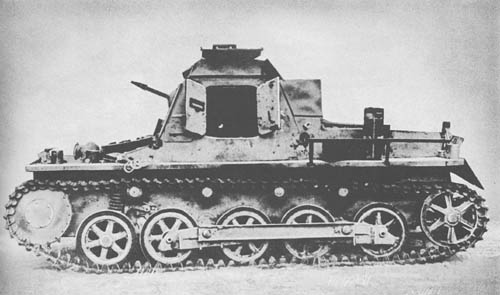 This vehicle was planned as a commander's armored office. Many of both Models A and B were used as Commander's tanks. Some were used in the early battles on the Russian front.
The chassis is that of the standard Pz. Kpfw. I, Model B, and on this is mounted a fixed square turret with one machine gun in a ball mounting fitted forward to the right.
The turret is of octagonal form and comprises one unit with the upper glacis plate, the whole unit being of welded construction. It does not rotate and is bolted to the hull by means of an internal flange at the sides and rear, and by countersunk bolts at the front. A resilient gasket is fitted between the hull and turret. The cupola conforms to the shape of the turret top and is also of welded construction. Its corner plates are short and its internal measurement approximates 20 3/4 inches. Double slitted visors measuring 8 1/2 ins. x 3/4 in. are provided in each side.
Entry into the fighting compartment is by a pair of hinged 10 in. x 20 in. doors in the left side plate of the turret. An escape hatch, measuring 201/2 ins. square, is provided in the cupola top and is fitted with a pair of doors hinged to the right and left.
The hull is of welded construction except where additional armor is fitted, as in the case of the nose plates, where conical-headed bolts have been used. In some instances the extra plates are face hardened.
A mounting for a wireless aerial is provided on the right rear side of the turret. The aerial may be raised or lowered from the inside of the fighting compartment by a lever operating on a shaft coupled to the lead-in tube by insulated (porcelain) coupling. Radio communication forms an important adjunct in connection with the operation of these tanks.
SPECIFICATIONS
Weight
6 tons
Length
14 ft., 6 ins.
Width
6 ft., 9 ins.
Height
6 ft., 6 ins.
Ground clearance
11 1/2 ins.
Tread centers
5 ft., 5 ins.
Ground contact
7 ft., 11 ins.
Width of track
11 ins.
Pitch of track
3 11/16 ins.
Track links
99
Fording depth
2 ft.
Theoretical radius of action
Roads
87 miles
Cross-country
72 miles
Speed
Roads
32 m.p.h.
Cross-country
15 m.p.h.
Armor
Front plate
15 + 17 mm
Sides
15 mm
Armament
One 7.92 mm M.G. 34
Ammunition (rds.)
(est.) 1500
Engine
100 h.p. Maybach Model NL 38T
Transmission
5 speeds forward, 1 reverse
Steering
Clutch brake
Crew
3
German: p. 3