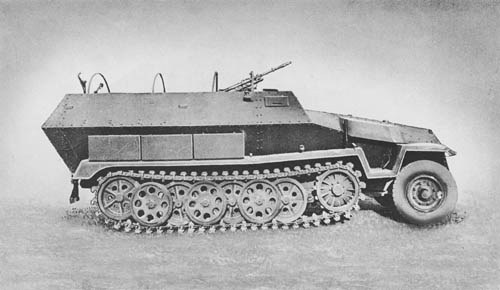 This vehicle is a medium armored personnel carrier with the chassis of the Sd. Kfz. 11 (light semitracked prime mover). The Sd. Kfz. 11 has been modified by placing armor on the chassis, altering the cooling arrangement, and mounting the steering wheel in an inverted position. The armor plate thickness measures 7.5 mm on the radiator cover, 8.5 mm on the sides, and 15 mm on the lower front plate, set at angles to the horizontal of 81°, 55-60°, and 55° respectively. It has been reported that these vehicles were used by the motorized infantry of armored divisions. Eight variations are known to exist with designations 251/1 through 251/8. The vehicles are used for infantry, ammunition and as command vehicles with built-in wireless, or ambulances.
The suspension is the same as that utilized for the Sd. Kfz. 11, as is also the power plant and the power train.
The armament normally consists of two 7.92 mm M.G. 34's, one on a mount welded to the front of the chassis and one on an antiaircraft pedestal mount in the rear of the vehicle. Reports have been received that the 2 cm Kw.K. 30 is also mounted. The vehicle has a seating capacity for eleven men, including the driver.
SPECIFICATIONS
Weight
7.7 tons
Length
19 ft.
Width
7 ft.
Height
7 ft.
Ground clearance
12 ins.
Tread centers
5 ft., 3 ins.
Ground contact
5 ft., 11 ins.
Width of track
11 ins.
Track links
55
Pitch of track
5.5 ins.
Fording depth
20 ins.
Theoretical radius of action
Roads
185 miles
Cross-country
80 miles
Speed
Roads
Cross-country
Armor
Front plate
15 mm
Sides
8.5 mm
Armament
2 7.92 M.G. 34's
Ammunition (rds.)
Trailer load
3.3 tons
Engine
Maybach, NL 42 TUKRR, 100 hp.
Transmission
4 speeds forward, 1 reverse, high and low range
Steering
Front wheel and track epicyclic
Crew
11
German: p. 45