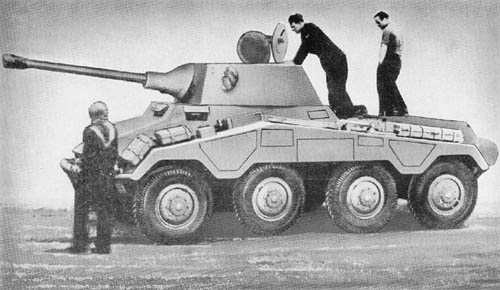 This armored car is basically the 8-wheeled Model Sd. Kfz. 234 equipped with a 12-cylinder, 75°, air-cooled diesel engine. The armor plate on the front of the turret, superstructure, and hull is heavier than that of earlier models. The vehicle, itself, is also about three tons heavier.
The main armament consists of the 5 cm tank gun, Kw. K. 39/1, fitted with a muzzle brake. This gun has a muzzle velocity of 2,700 f/s, with A.P. ammunition. Its penetration performance with A.P.C. ammunition is estimated at 2.2 inches at 30° from 1,000 yards.
The mantlet is cast in one piece somewhat similar in appearance to that on the latest assault guns, but the casting also includes the coaxial machine gun. This design gives greater protection than the older types. The gun has a vertical sliding block and is of the semi-automatic type. A spring type equilibrator is mounted on the right hand side between the cradle and the turret top plate. The hydropneumatic recoil mechanism is mounted in the mantlet on top of the piece. Elevation is from -7° to +25°. Six smoke projectors are mounted, three on each side of the turret.
The front of the turret is protected by 30 mm armor set at an angle of 20° from the vertical. The sides and rear have 10 mm armor set at 25°, and the top plate is of the same thickness. The gun mantlet is rounded, and is 40 to 100 mm thick. The front of the superstructure has 30 mm armor set at a 35° angle, and the sides 10 mm at 30°. The nose plates of the hull are 30 mm thick, the upper plate being set at a 55° angle and the lower at 30°. The glacis plate is 17 mm at 70° and the sides of the hull 9 mm at 30°.
SPECIFICATIONS
Weight
11.5 tons
Length (overall with gun at 12 o'c.)
22 ft., 4 ins.
Length (overall with gun at 6 o'c.)
19 ft., 8 ins.
Width
7 ft., 10 ins.
Height
7 ft., 6 ins.
Ground clearance
1 ft., 2 ins.
Tread centers
6 ft., 4 3/4 ins.
Wheelbase
13 ft., 5 1/2 ins.
Tire size
8.27 x 16
Fuel tank
89 gal. capacity
Fording depth
4 ft., 7 ins.
Speed (maximum)
50 m.p.h.
Engine
12-cylinder, 75°, air-cooled diesel.
217 BHP at 2250 engine r.p.m.
Bore and stroke
110 mm/130 mm
Ignition
Diesel
Battery
Transmission
6 speeds forward: 6 reverse
Steering
(Dual control) worm and nut
Crew
4
German: p. 42.1 (April 1, 1945)