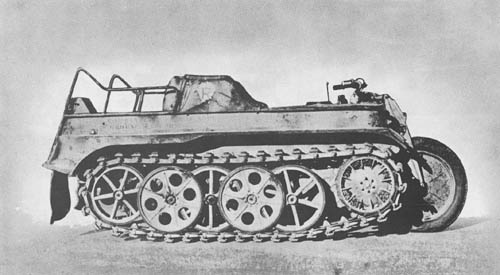 The invasion of Crete (1941) revealed for the first time the use by the Germans of the motorcycle tractor. This vehicle, which retains the standard front wheel and handle bars of a normal motorcycle with the rear wheel replaced by two caterpillar tracks, is used primarily for towing light guns and supply, trailers, and for carrying dispatches in localities where difficult terrain precludes the use of wheeled vehicles. The mobility of this vehicle is as good as most tanks and its ability as a light prime mover, because of its wide gear selection, is excellent. Without load attached it has a maximum speed of 45 m.p.h. on level ground, and is capable of climbing 60 per cent grade.
The chassis is a boxlike structure of pressed steel in two sections, welded together in a horizontal plane below the track guards. It contains the driving compartment, engine, and a transverse seat accommodating two men facing the rear. A hand rail is provided on each side of the back. The driver is seated on a saddle seat directly above the transmission and clutch housing. Gasoline tanks are mounted on each side and, together with the battery and tool compartments, make up the side walls of the vehicle.
Power is furnished by the centrally mounted Opel Olympia 4-cylinder, water-cooled gasoline engine developing 37 gross B.H.P. in a displacement of 91.5 cu. in. Cooling is accomplished by a radiator, with a shaft-driven fan coupled to the crankshaft, at the rear. Six forward and two reverse speeds are available.
The suspension consists of four straddle-mounted, rubber-tired bogie wheels on torsion bars, a front driving sprocket, and a rear idler. The inner bogie wheels are of the hollow-spoke type while the outer wheels are of the removable disk type. The track, made up of 40 links per strand, is equipped with needle bearings and replaceable rubber pads.
SPECIFICATIONS
Weight
3,400 lb. (combat)
Weight
2,700 lb. (empty)
Length
9 ft., 10 ins.
Width
3 ft., 3 1/2 ins.
Height
3 ft., 11 ins.
Ground clearance
9 ins.
Tread centers
2 ft., 8 ins.
Ground contact
2 ft., 8 ins. (approx.)
Width of track
6.7 ins.
Pitch of track
4 3/4 ins.
Track links
40
Fording depth
20 ins. (approx.)
Theoretical radius of action
Roads
155 miles
Cross-country
100 miles
Speed
Road
45 m.p.h.
Cross-country
25-30 m.p.h.
Trailer load
980 lb. (normal weight)
Size of front tire
3.50 x 19
Engine
Opel, 37 hp.
Transmission
3 speeds forward, 1 reverse with high and low range
Steering
Controlled differentially, mechanical brakes
Crew
2 (driver and helper)
German: p. 50