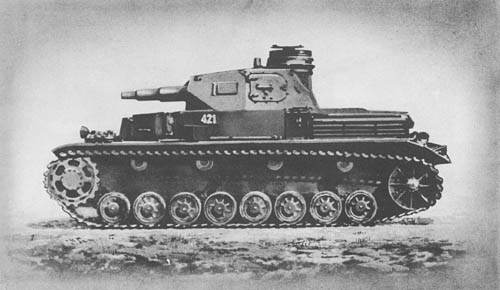 Weighing up to 24 tons in battle array, it is the standard German medium tank. Ten models, A, B, C, D, E, F, F2, G, H, K, are known to have been produced. All models utilize the same suspension arrangement of eight evenly spaced bogie wheels, 18 1/2 inches in diameter, sprung in pairs on each side, with four return rollers. All models mount the 7.5 cm Kw. K. except Models F2 and G, which mount the 7.5 cm Kw. K. 40. The chassis of this tank is used as a self-propelled mount for heavier guns, such as the "Hornet," the "Bee," and the "Grizzly Bear."
Model A—An early experimental type. It weighed 20 tons, unladen, and had a 5-speed transmission (S.F.G. 75) and an H.L. 108 T.R. Maybach engine.
Model B—The first model to bear the standard Pz. Kw. IV type number Sd. Kfz. 161. This model had a new type of 6-speed transmission (S.S.G. 76) and an improved H.L. 120 T.R.M. Maybach engine
Model C—Distinguishable from Model B by its "wish-bone" aerial deflector. It was the first model to have an armored sleeve protecting the turret machine gun, and the front plate of its superstructure extends straight across the tank in one piece.
Model D—The fixed outer gun mantlet is dispensed with and the moving portion is fitted with a thick front shield, the edges of which overlap and protect the mantlet joints. The driver's compartment extends farther forward than the machine gunner's compartment. The basic armor in this model is 30 mm in thickness in front and 20 mm on the sides. Its unladen weight is 20 1/2 tons.
Model E—Distinguishable from the Model D by its new type of front driving sprocket, and by the new design of shutter (single hinge) on the driver's visor. The nose plate armor is increased from 30 mm to 50 mm. Weight is 21.5 tons, unladen.
SPECIFICATIONS
Weight
21.5 tons
Length
19 ft., 4 ins.
Width
9 ft., 7 ins.
Height
8 ft., 6 ins.
Ground clearance
15 1/4 ins.
Tread centers
7 ft., 11 ins.
Ground contact
11 ft., 6 ins.
Width of track
14 1/4 ins.
Pitch of track
4 1/4 ins.
Track links
99
Fording depth
3 ft.
Theoretical radius of action:
Roads
130 miles
Cross-country
80 miles
Speed:
Road
28 m.p.h.
Cross-country
15 m.p.h.
Armor:
Front plate
50 mm
Sides
30 mm
Armament
7.5 cm Kw. K.
2 MG 34's
Ammunition
7.5 cm gun—105 rds.
MG's—2,700 rds.
Engine
Maybach HL 120 TRM, V-12, 320 hp.
Transmission
Synchromesh—6 speeds forward, 1 reverse
Steering
Epicyclic, clutch brake
Crew
5
German: p. 31