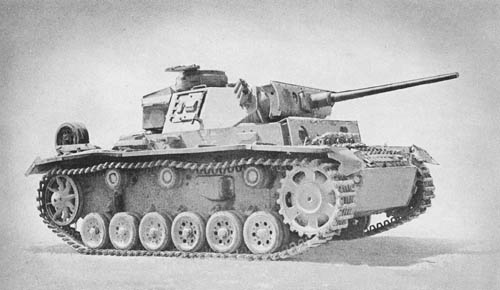 Model J—The principal differences between Model J and earlier models are:
1. Increased thickness of basic armor plate on certain front and rear plates from 30 mm to 50 mm and the addition of spaced armor on the front of the gun mantlet and the front plate of the superstructure.
2. Hydraulically operated steering in the earlier models has been replaced by mechanical steering. As previously reported, the complicated Maybach Variorex ten-speed gear was abandoned in Model H in favor of a manual six-speed and reverse gear box.
3. Wider tracks—15 inches instead of 14 1/8 inches. The heavier track necessitated a change in the spacing of the return rollers. Front and rear rollers are now mounted directly over the Luvax shock absorbers and prevent the track fouling the latter.
4. The tail plate has been modified to give better protection to the rear air outlet; it also allows the smoke device to be mounted inside the plate.
5. One or two mild steel bars, welded at each end, are fixed across the middle of the nose plate. The track shoes are placed behind the bars and are held in position by the bridge of the shoe.
6. The mounting of the 5.0 cm Kw. K. 39 (long gun) was incorporated in the latest of the Model J tanks.
The most prominent recognition points of this model are: the mounting of the hull machine gun is of prominent ball type; the driver's visor consists of a single hinged piece of armor instead of two separate plates; the front sprocket and rear idler are similar to those in Model H; particularly squat turret, pear-shaped with circular cupola well set to the rear.
Model K—Same as Model J. This model mounted the 5.0 cm long gun (Kw. K. 39).
SPECIFICATIONS
Weight
22 tons
Length
17 ft., 9 ins.
Width
9 ft., 8 ins.
Height
8 ft., 3 ins.
Ground clearance
15 ins.
Tread centers
8 ft., 2 1/2 ins.
Ground contact
9 ft., 4 1/2 ins.
Width of track
15 ins.
Pitch of track
4 3/4 ins.
Track links
90
Fording depth
3 ft.
Theoretical radius of action:
Roads
100 miles
Cross-country
60 miles
Speed:
Road
28 m.p.h.
Cross-country
15 m.p.h.
Armor:
Front plate
50 mm
Sides
30 mm
Armament
5.0 cm Kw. K. 39
2 MG's
Ammunition
5.0 cm gun—75 rds.
Engine
Maybach HL 120 TRM, V-12, 320 hp.
Transmission
Manual, 6 speeds forward, 1 reverse
Steering
Epicyclic, clutch brake
Crew
5
German: p. 24