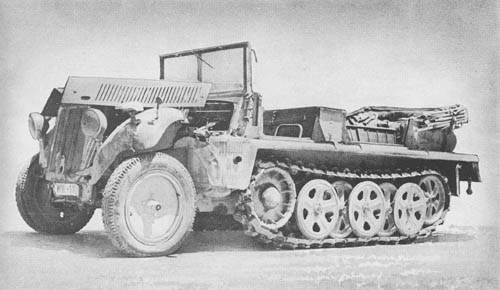 This vehicle is used as a troop carrier and for towing light artillery and supply trailers. Accommodation for a crew of seven, including driver, is provided in the well of the body, the sides of which are sufficiently deep to obscure personnel to shoulder height when seated. With all inspection hatches of the hull closed the main body of the vehicle is practically watertight in traversing deep water.
The chassis of this vehicle is used for several specialized mountings: (1) for the 2 cm Flak 30 gun; (2) for gas-detector truck (Sd. Kfz. 10/1); (3) for light decontamination vehicle (Sd. Kfz. 10/2) carrying a hopper for spreading bleaching powder; (4) for light bulk contamination vehicle (Sd. Kfz. 10/3) fitted with a tank for blister gas and spraying device.
The power plant of the later models consists of a Maybach H.L. 42 T.R.K.M. straight-six, water-cooled engine rated at 100 horsepower. The Maybach N.L. 38 T.R.K.M. rated at 95 horsepower was formerly used. The power train is comprised of the twin-plate clutch, the preselective type transmission with four forward and one reverse speeds with high and low range, and the differential unit of spur-gear and pinion type. Steering is effected by normal steering wheel for turns under 15°; turns over 15° are negotiated by the combined action of turning the front wheels and braking the appropriate epicyclic-drive sprocket by means of the steering brakes mounted on the driving shaft.
The pneumatic-tired front wheels are of the disk type and are fitted on a normal type axle suspended by a single transverse semi-elliptic spring. Two hydraulic shock absorbers are fitted. Each of the flexible rear tracks is borne by a driving sprocket at the front end and an idler wheel at the rear, while between these are five pairs of pressed-steel, rubber-tired bogie wheels.
SPECIFICATIONS
Weight
3.7 tons
Length
15 ft., 7 ins.
Width
6 ft.
Height
5 ft., 3 ins.
Ground clearance
13 ins.
Tread centers
5 ft., 2 ins.
Ground contact
4 ft., 6 ins.
Width of track
9.4 ins.
Track links
41
Pitch of track
6.25 ins.
Fording depth
27 ins.
Theoretical radius of action
Roads
176 miles
Cross-country
93 miles
Speed
Roads
40 m.p.h.
Cross-country
25 m.p.h.
Trailer load
1.1 ton
Engine
Maybach HL 42 TRKM—100 hp.
Transmission
4 forward speeds, 1 reverse, high and low range
Steering
Over 15° epicyclic
Crew
7
German: p. 51