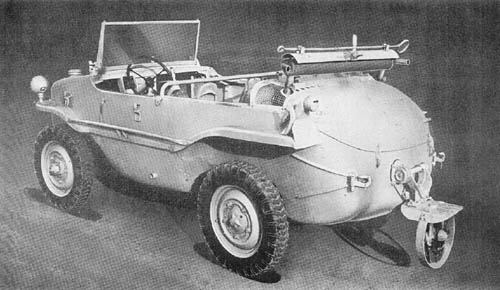 The basic construction of this vehicle is identical with that of the standard type 82 Volkswagen. Front wheel drive has been added to the ingenious positive lock differential rear drive already employed and removes all objections to its poor cross-country performance.
The steering assembly and the front wheel suspension are placed outside a watertight bulkhead.
A rubber sealed stuffing box is used for the front wheel drive shaft. In the rear the suspension is mounted outside the watertight hull. The only openings are for each drive shaft. These are entirely hooded by two bellows type rubber boots that sheath the axle allowing movement in all directions.
Shock absorbers are provided for each wheel. In the front they are mounted outside the hull. In the rear, a watertight shaft extends through the hull from shock absorber to wheel.
Normal grease seals on the rear axle keep water from seeping into the differential and transmission assemblies.
The transmission, transfer case and the positive locking differential comprise a unit assembly secured to the floor at its extreme rear end. A power takeoff has been added to the normal transmission to provide front wheel drive. A cross-country gear position is also provided. It is an extra low gear necessitating the normal transmission be kept in neutral position when used.
The clutch is a dry single disc foot operated type. The propeller assembly is mounted on a spring-loaded hinge that is positioned in the rear directly in line with the hand crank pulley. It incorporates a slip clutch to eliminate damage to the propeller blades by underwater obstructions. Engagement direct with the engine is made through a dog clutch sealed by a rubber bushing on the engine side.
SPECIFICATIONS
| | | |
| --- | --- | --- |
| Weight | | 2,040 lbs. |
| Loading capacity | | 960 lbs. |
| Length (overall–propeller down) | | 150 ins. |
| (overall–propeller up) | | 140 ins. |
| Width (overall) | | 55 ins. |
| Height (overall to top of windshield) | | 57 ins. |
| (overall less windshield) | | 38 ins. |
| Ground clearance | | 11.5 ins. |
| Tread centers | | 47 ins. |
| Wheelbase | | 78 ins. |
| Tire size | | 5.25 x16–one spare |
| Fuel tank | | 13 gallons, 70 octane |
| Fuel consumption (land) | | 20 m.p.g. |
| (water) | | Unknown |
| Fording depth | | Unlimited |
| Speed (land) | | 46.5 m.p.h. |
| (water) | | 7.5 m.p.h. |
| Engine | | 4 cyl. horizontally opposed, air-cooled |
| Horsepower | | 24.5 at 3,300 r.p.m. |
| Ignition | | Bosch, 6 volt coil |
| Battery | | 6 volt |
| Transmission | | 4 speeds forward, 1 reverse |
| Steering | | Normal–front wheels |
German: p. 58.1