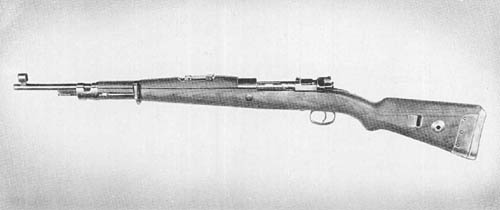 This carbine, a typical Mauser, is very similar to the latest model of the Kar 98K. It is a manually operated, air-cooled, clip-fed shoulder weapon, having a laminated wood stock, a large metal butt plate to protect the stock when grenades are launched, and a sling mounted on the left-hand side.
The Gewehr 33/40 and the Kar 98K have interchangeable bolts. The most obvious differences are found in the length, weight, hand guards, and bolt handles.
The present weapon has an overall length of 39 1/8 inches as compared to the 43 1/2 inches of the Kar 98K. The barrel length is 19 3/8 inches instead of 23 1/2 inches. The carbine weighs 7 pounds 11 ounces; the rifle 9 pounds. The hand guard on the Gewehr 33/40 extends behind the rear sight and covers a greater percentage of the barrel than the one on the Kar 98K. The bolt handle on the carbine is turned down uniformly forming a semi-circle, and the knob on the end of the handle has been hollowed out and milled flat on the underside to reduce weight. On the Kar 98K, the bolt handle slopes down abruptly at right angles and the knob is solid.
SPECIFICATIONS
Caliber
7.92 mm (.312 in.)
Weight
7 lbs., 11 ozs.
Length (overall)
39 1/8 ins.
Principle of operation
Manually operated, bolt action
Feeding device
Clip-fed, hand-loaded magazine
Capacity of feeding device
5 rounds
Cooling system
Air
Ammunition
All 7.92 mm Mauser Types
Type of sight
Inverted "V" or barleycorn front sight with hood protector and tangent leaf rear sight graduated from 100 to 1,000 meters.
Length of barrel
19 3/8 ins.
Length of rifling
Rifling
Twist
Uniform R.H.
No. of grooves
4
Muzzle velocity
2,509 f/s
German: p. 206.2 (March 1, 1945)