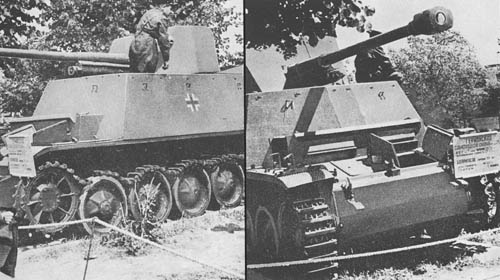 The Pz. Kpfw. II chassis embodying the suspension on four large bogie wheels has been used as a self-propelled mount for the German modified Russian gun 7.62 cm Pak 36 (r) as well as the Pz. Kpfw. II models utilizing five bogie wheels. These equipments are used in an antitank capacity.
The turret and superstructure of the original tank has been removed and replaced by a high box-like superstructure shield of approximately 15 mm thickness, sloping about 75° to the horizontal. Centrally located above the lower shield superstructure is a three-sided shield of approximately 10 mm thickness with a slotted front plate through which the long muzzle of the gun projects well over the front of the chassis. The original shield of the gun has been retained.
The gun, 163 1/2 inches in length including the muzzle brake, is of monobloc construction. The breech mechanism is of the falling-wedge type. The elevating gear is operated by a handwheel located on the left side of the gun; the traversing gear is on the right. The estimated elevation of the piece is -5° to +22°; traverse 65°. Its muzzle velocities are as follows: H.E. shell, 1805 f/s; A.P.C. shell, 2430 f/s. Firing A.P.C. shell this gun will defeat 3.2 inches of homogeneous armor of 30° obliquity at 1000 yards, and 4.1 inches at normal.
SPECIFICATIONS
Weight
10.5 tons
Length
16 ft. (excl. gun)
Width
7 ft., 6 ins.
Height
6 ft., 9 ins.
Ground clearance
12 ins.
Tread centers
5 ft., 10 ins.
Ground contact
7 ft., 10 ins.
Width of track
Track links
96 (est.)
Pitch of track
Fording depth
3 ft.
Theoretical radius of action
Roads
115 miles
Cross-country
75 miles
Speed
Roads
28 m.p.h.
Cross-country
12 m.p.h.
Armor
Front plate
30 mm
Sides
15 mm
Shield
15 mm
Armament
7.62 cm Pak 36 (r)
Ammunition
Wt. of Projectiles
A.P.C.
16.7 lb.
H.E.
12.6 lb.
Engine
Maybach, 140 B.H.P.
Transmission
5 speeds forward, 1 reverse
Steering
Epicyclic clutch brake
Crew
4 (probably)
German: p. 12