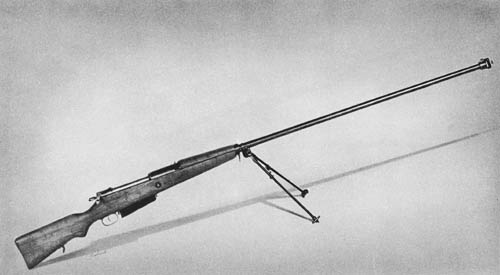 During the Polish invasion, the Germans captured large numbers of the Mascerzek Model 35, 7.92 mm antitank rifle. These were used extensively in the earlier part of the war.
This Polish rifle is a weapon similar in design to a Mauser rifle firing a normal cartridge, but it is longer and heavier, and a muzzle brake has been attached. It led to the development of the German rifles, known as the Pz. B. 38 and Pz. B. 39.
This weapon is a bolt-action gun of the modified Mauser type and has a detachable box magazine. It is carried by a sling attached in the usual manner. It may be recharged with ammunition by exchanging the magazine or by reloading the empty magazine with single rounds. The body is a hollow cylinder with an ejection and loading aperature on top and a magazine slot at the bottom. The bolt is cylindrical with a straight lever at right angles on the right side (in the closed position).
The barrel, which is parallel throughout most of its length, increases in diameter toward the breech until it equals that of the body. At the muzzle, a portion is threaded to take a muzzle brake. The bipod is of light construction and is attached to the barrel by a yoke. The legs of the bipod terminate in circular shoes which are cut away on the inside to clasp the barrel when they are folded forward in a closed position. The magazine is of the box type.
SPECIFICATIONS
| | | |
| --- | --- | --- |
| Caliber | | 7.92 mm (.312 in.) |
| Weight | | 20 lb. (approx.) |
| Length | | 5 ft., 10 ins. |
| Ammunition | | Steel jacket with A.P. steel core and lead antimony filler |
| Sights | | Rear, fixed; front, adjustable blade |
| Capacity | | 5 rds., in clips |
| Muzzle velocity | | 4,100 f/s |
German: p. 210