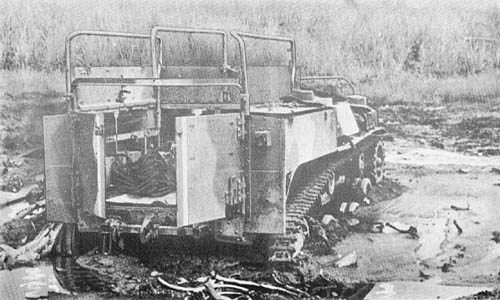 The chassis of this Japanese armored prime mover incorporates the better design features of the tankette development shown on pages one to three. This vehicle is an important link in the chain of Japanese transportation of personnel and supply in the large mainland areas. Its construction proves that the Japanese attach considerable importance to the interchange and utilization of standard tank component parts on combat vehicles for greater simplification of their supply problem.
The hull provides for a layout of the engine and power train on the right, while the driver's compartment is located on the left side. A large load and stowage compartment at the rear extends over the tracks. Tubular bows are raised for protective covering and camouflage nets. Double doors open at the rear, below which a towing pintle is attached. There is no main armament; however, there is an observation turret built in the roof of the crew compartment behind the driver. Speaking tubes with ear phones are used for crew communication. Four hinged flap-covered openings provide additional vision for the crew and allow employment of small arms weapons.
The power train in this vehicle is made up of the engine, four-speed and reverse transmission, controlled differential with steering brakes and a final drive single reduction gear. The engine is a four-cylinder in-line diesel with Bosch type automatic fuel injection. A 12-volt ignition system is also provided with spark plugs located in the fuel injection ports. The electrical system utilizes parts standard and interchangeable with other vehicles. Two fuel tanks hold 38 gallons.
SPECIFICATIONS
Weight
5 tons
Length
12 ft., 8 ins.
Width
6 ft., 4 ins.
Height
5 ft., 2 ins.
Ground clearance
14 ins.
Tread centers
Ground contact
124 ins.
Width of track
8 ins.
Pitch of track
3 ins.
Track links
88
Fording depth
31 ins.
Theoretical radius of action
Roads
Cross-country
Speed
Roads
28 m.p.h.
Cross-country
Armor
Front plate
6 mm
Sides
12 mm
Floor
12 mm
Armament
Small arms weapons
Ammunition (Rds.)
Unknown
Engine
4-cylinder air-cooled OHV Diesel
Transmission
4 speeds forward; 1 reverse
Steering
Controlled differential
Crew
2
Japanese: p. 18.1