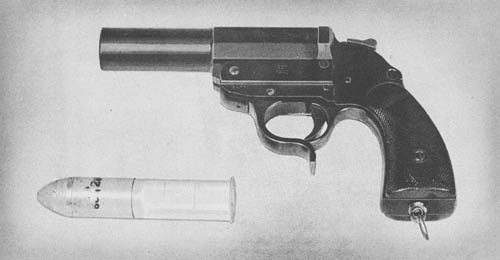 The Walther 27 mm Signal Pistol is a smooth-bore weapon firing a variety of some forty different signal cartridges. In addition, two grenades are fired from this weapon: the 27 mm Signal Pistol Grenade 326 L.P., which consists of a small high-explosive projectile weighing approximately 4 ounces, contained in a light-alloy cartridge case; and the Signal Pistol Grenade 361 L.P., which consists of a standard egg grenade attached to a projector stem fitting into the barrel of the pistol, which in this case is provided with a loose smooth-bore liner.
The Kampfpistole ("Battle pistol"), a later development of the signal pistol, is the original pistol modified by boring out and rifling the barrel. A small circular bubble-sight is attached to the left side of the pistol. The four types of ammunition designed for this weapon are: high-explosive, smoke, indicator, and single illuminating star on parachute.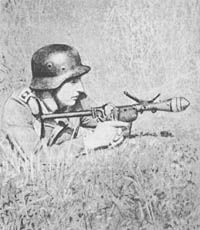 The new Kampfpistole is still a further development. In this weapon, the original model has not been modified by rifling, but a loose steel liner has been fitted. A removable sight is fixed on the barrel, and a folding stock is added. All parts can be readily assembled when in the field. By removal of the liner, any type of ammunition suitable for the original pistol can be fired. However, the H.E. Grenade 361 L.P. cannot be fired from the rifled liner, but use must be made of the smooth-bore liner provided. Furthermore, none of the ammunition designed for the Kampfpistole can be fired in the new Kampfpistole, with or without liner. A new type hollow-charge projectile similar to the hollow charge rifle grenades has been developed for this weapon, but as yet no further information is available.
SPECIFICATIONS
| | | |
| --- | --- | --- |
| Weight | | 5 1/2 lb. |
| Length | | 23 ins. unfolded |
| | | 12 ins. folded |
| Caliber | | 27 mm without liner (1 in.) |
| | | 23 mm with liner (.9 in.) |
German: p. 201