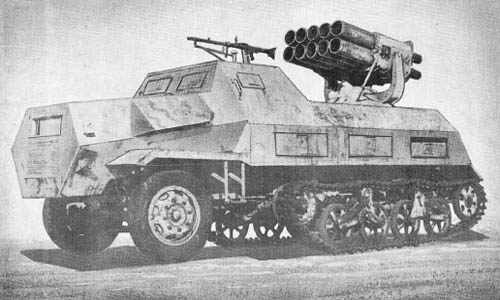 The chassis of this self-propelled rocket projector follows the half-track design but differs materially from the standard German half-track series of prime movers.
A standard commercial chassis manufactured by Opel (Chevrolet) has been modified to carry a spacious armored body of welded plates. The hull thus formed provides a firm and stable firing platform, and permits of easy mass production. The armor is intended only for protection against small arms fire of .30 caliber. The rear wheels and springs of the original truck chassis have been displaced by a track assembly, prefabricated and then bolted to the original frame. The original rear end differential has been retained but the drive shaft has been shortened and the asembly moved forward to mount the drive sprockets. The hydraulic brake system is retained only for the front wheels. A separate cable for each sprocket brake is connected to two hand levers mounted to the right of the driver's seat. Normal steering is assisted by the sprocket brake when necessary.
The rocket projector consists of ten tubes mounted in two layers of five each. Provision is made for a simple optical sight, and for hand wheels for a maximum of 80° elevation and a maximum traverse of 290°. The projectiles are the same as those fired from the 15 cm Nebelwerfer 41 and can be electrically fired, singly or ripple, by means of a squib placed in each round. They are loaded with high explosive, smoke, and chemical warfare ammunition.
Auxiliary weapons include one 7.92 mm machine gun, M. G. 34, and three 9 mm submachine guns. Ammunition stowage is provided for ten extra rockets, 2,000 rounds for the M. G. 34, and 2,000 rounds for the submachine guns.
SPECIFICATIONS
| | | |
| --- | --- | --- |
| Weight (net) | | 13,558 lb. |
| Trailer load capacity | | 2,425 lb. |
| Length (overall) | | 19 ft. 5 ins. |
| Width (overall) | | 7 ft. 2 ins. |
| Wheel base (approx.) | | 130 ins. |
| Height (overall) | | 8 ft. 6 ins. |
| Armor | | 5/32 ins. to 5/16 ins. |
| Ground clearance (minimum) | | 10 ins. |
| Tread centers | | 5 ft. 2 ins./5 ft. 11½ ins. |
| Ground contact (tracks) | | 78 ins. |
| Track width | | 10¼ ins. |
| Track links | | 82 |
| Fuel tank | | 22.4 gals. |
| Fuel consumption | | Unknown |
| Fording depth | | 32 ins. |
| Speed | | 25 m.p.h. |
| Engine | | Open (Chevrolet) 6 cyl. O.H.V. |
| Displacement | | 220 cu. ins. |
| Horsepower | | 67 U.S.A. |
| Ignition | | Bosch 12 Volt (Coil) |
| Battery | | 12 Volt with special heater |
| Transmission | | 5 speeds forward, 1 reverse |
| Steering | | Normal assisted by differential brake |
| Crew | | 3 |
German: p. 48.1