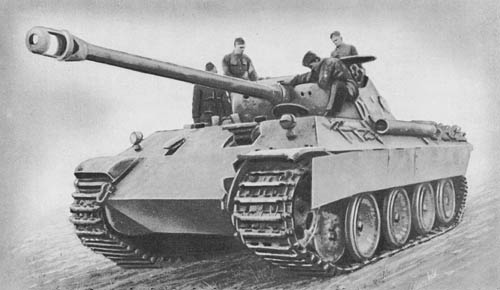 Introduced in 1942, the "Panther," a standard medium tank weighing 50 tons in battle order, is designed, by means of sloping armor plates, to present the most difficult angles of attack.
Unlike previous German tanks, its hull and superstructure form a single unit, and the sloping sides and rear of the latter, of 45 mm thickness, overhang the tracks. Its armor plate is of homogeneous machinable quality and, in addition to welding, the main joints have been strengthened by the mortised interlocking of the edges of the plates. The front glacis plate, 85 mm in thickness, is sloped upward at an angle of 33° from the horizontal and the purpose of its construction is to deflect projectiles in such a manner as to clear the gun mantlet. The turret, which has an inner ring diameter of 5 feet, 5 inches, is power traversed but can, in an emergency, be traversed by hand.
The suspension is composed of eight rubber-tired bogie wheels on each side, 33 1/2 inches in diameter. The rear idler has a diameter of 22 1/4 inches. The track is 26 inches wide and has a pitch of 6 inches.
The engine is either the Maybach 60° V-12, HL 210, or the HL 230, the former rated at 642 B.H.P. and the latter 690 B.H.P.
The main armament is a 7.5 cm high-velocity, parallel-bore gun fitted with a double baffle muzzle brake. Some "Panthers," probably those of early production, are known to have mounted the 7.5 cm Kw. K. 42, while others of more recent production are reported to mount the 7.5 cn Kw. K. 43. The precise differences between the guns are not known. A 7.92 mm MG 34 is coaxially mounted in the turret.
The "Panther" may be equipped to be fully submersible to depths limited by the height of the air-intake pipe—14 feet, 9 inches—but not all are so equipped.
SPECIFICATIONS
Weight
47 tons
Length (excl. gun)
22 ft., 7 1/2 ins.
Width
11 ft., 3 ins.
Height
9 ft., 6 1/2 ins.
Ground clearance
Tread centers
Ground contact
13 ft., 5 1/2 ins.
Width of track
2 ft., 2 ins.
Pitch of track
6 ins.
Track links
86
Fording depth
14 ft., 9 ins.
Theoretical radius of action
Roads
105 miles
Cross-country
75 miles
Speed
Roads
30 m.p.h.
Cross-country
15 m.p.h.
Armor
Front plate (turret)
100 mm
Sides
45 mm at 48° from horizontal
Armament
7.5 cm Kw. K. 42
1 MG 34
Ammunition
7.5 cm gun—75 rds.
MG—2500 rds.
Engine
Alternative types—Maybach HL 210 or HL 230.
Transmission
Synchromesh—6 forward speeds, 3 (unconfirmed) reverse.
Steering
Believed similar to Pz. Kw. VI ("Tiger")
Crew
5
German: p. 37