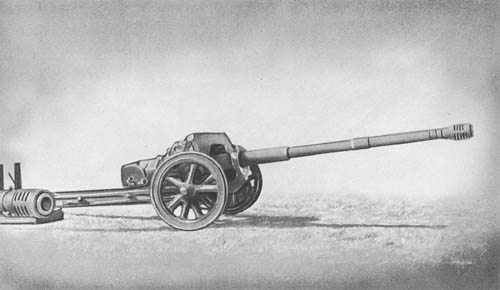 The 7.5 cm Pak 41, Germany's latest antitank gun to be brought into service, is designed on the Gerlich or tapered-bore principle. The bore tapers from 7.5 cm at the breech to 5.5 cm at the muzzle, but the taper is not constant. The first part of the bore is cylindrical and rifled; the second, conical and unrifled; and the third, measuring 27.6 inches in length, is cylindrical and unrifled. There is also a muzzle brake. The life of the barrel is estimated at approximately 500-600 rounds. The weapon is long, low, and sturdy in appearance and has a semi-automatic breech mechanism of the vertical wedge type.
The carriage has a split trail and is mounted on metal wheels with solid rubber tires. As traction is by motor tractor, the carriage is fitted with pneumatic brakes controlled by the driver of the tractor. Torsion bar suspension is automatically cut out when the trails are opened.
An elevating mechanism of the sector type is on the right-hand side of the cradle, and a traversing mechanism of the screw type on the left. There is no equilibrator mechanism. The recoil mechanism contains a hydraulic cylinder and spring-type recuperator.
The sighting system, which is graduated up to 1,500 meters (1,635 yards), has four scales for use according to the actual muzzle velocity of the gun. Muzzle velocity drops considerably because of wear.
SPECIFICATIONS
Caliber
7.5/5.5 cm
Weight in action
1.4 tons
Length of barrel (approx.)
170 ins.
Muzzle velocity (estimated)
4,123 f/s
Elevation
-10° to 18°
Traverse
60°
Armor penetration—A.P.C.

Range in yards
Thickness of armor in inches
Normal
30°
500
6.67
5.75
1,000
5.94
5.12
1,500
5.28
4.49
2,000
4.63
3.94
German: p. 123