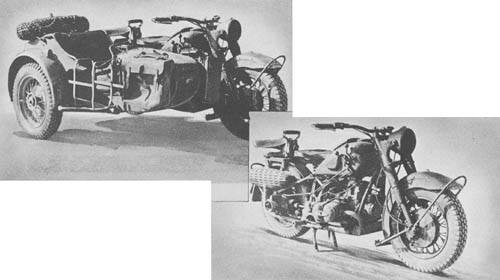 The motorcycle, due primarily to its economy of operation, has received extensive development in Germany. The following manufacturing types are known to exist: Ardie, B.M.W., D.K.W., Horex, U.S.U., Phänomen, Puch, Standard, Tornax, Triumph, Victoria, Zundapp, and C.S. (Czech). The vehicle described herein is the B.M.W. Its outstanding operational features are: (1) a shaft final drive instead of a chain drive; (2) sidecar wheel-drive arrangement; (3) high and low range transmission, and (4) hydraulic brakes. Its average road speed is 55 m.p.h.; maximum speed, 75 m.p.h.
The frame and fork are made of pressed steel. The wheels are spoked and have dismountable axles in front and rear. The front, rear, sidecar, and spare wheels are all interchangeable.
The vehicle is powered by a 2-cylinder, air-cooled engine rated 25.4 horsepower at 3900 r.p.m. It weighs 192 pounds, has a bore of 3.07 inches, and a displacement of 45.5 cubic inches. The ignition system is the Noris type ZG 2A with automatic spark control. Full-pressure lubrication is provided. The capacity of the gasoline tank is 6 1/3 gallons.
The power train includes the single dry disk clutch, the synchromesh transmission of four speeds forward and one reverse with high and low range, and the final shaft drive with bevel gear reduction of 5.69. In order to make the cycle and sidecar combination more capable of cross-country operation, the sidecar also drives. As the drive comes back from the transmission, it enters the rear gear case by means of a shaft mounted parallel to the direction of motion. The rear wheel of the cycle is driven by means of a ring and pinion gear. However, the wheel is not on the same center as the ring gear, a pair of spur gears being mounted between the ring and the wheel to afford a further gear reduction. This gives the wheel an offset of about 4 inches to the rear of the ring gear. From the right of the ring gear the drive passes through a differential to the sidecar wheel.
The rear and sidecar wheels have hydraulic brakes; the front wheel mechanical brakes.
SPECIFICATIONS
Weight
900 lb. (with sidecar)
Maximum load
1,000 lb.
Length
8 ft., 4 ins.
Width
5 ft., 10 ins. (with sidecar)
Height
3 ft., 4 1/4 ins.
Ground clearance
6 ins.
Suspension
3 spoked, interchangeable, pneumatic-tired wheels
Wheel base
4 ft., 9 ins.
Size tires
4.50 x 16
Fording depth
13 ins.
Theoretical radius of action
Roads
190 miles
Cross-country
100 miles
Speed
Roads
55 m.p.h. (average)
Cross-country
20 m.p.h. (average)
Engine
Bayrische Motorenwerke, 2-cyl., 25.4 hp.
Transmission
Synchromesh—4 forward speeds, 1 reverse, with high and low range
Crew
2
German: p. 58