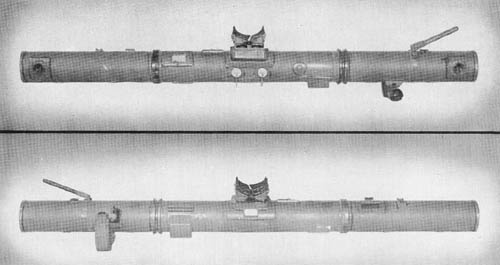 This range finder is believed to be designed for use with seacoast defenses. It is provided with an elbow telescope for tracking purposes and a graphical computer for converting slant range to altitude.
A number of its design features are quite similar to those in the Japanese 2 meter base Height Finder. Similarities are noted in the penta prism mounting, central prism assembly, reticle and eyepiece assemblies, night lighting of scales, and the filter assembly. The instrument is constructed with an outer tube, optical tube, and two tubular diaphragms, all of steel. The outer tube is covered with asbestos treated canvas. The tracking telescope provided with this instrument has a power of 10 diameters and a 5 degree field of view. The body is made of cast aluminum. The tracking telescope is attached to the main instrument by means of a dovetail bracket and is locked in place by a spring latch.
Another accessory, the graphical altitude computor, consists of a pendulum arm inclosed in a circular holder. The pendulum is graduated with a vertical scale in increments of 50 meters from 100 to 1,000 meters, which represents slant range. Angle of site is indicated by a graduated scale on the face of the holder. The cradle has the trunnion bearing arms cast as an integral part of the body. The eyeguard assembly is a copy of the Carl Zeiss design.
SPECIFICATIONS
| | | |
| --- | --- | --- |
| Power | | 24 |
| Field of view | | Undetermined |
| Diameter of entrance pupil | | 1.9 ins. |
| Diameter of exit pupil | | .08 ins. |
| Base length | | 2 meters |
| Diopter movement | | +2 to -4 diopters |
| Measuring limits | | 500 to 20,000 meters |
| Inter-trunnion distance | | 35 1/2 ins. |
| Overall length | | 86 ins. |
| Weight | | 148 lbs. |
Japanese: p. 182 (March 1, 1945)