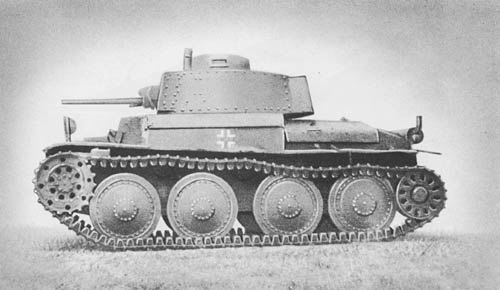 This is the Czech tank L.T.H. The chassis of this vehicle is frequently converted by the Germans for use as a self-propelled mount for artillery pieces, such as the 7.5 cm. Pak 40 and 7.62 cm. Pak 36 (r) anti-tank guns, and the 15 cm. s.I.G. 33. The primary characteristics of the Pz. Kpfw. 38 (t) are its four large Christie-type bogie wheels of equal size; two top rollers forward; flat-topped turret with prominent cupola, and a square gun mantlet covering the whole front of the turret.
The turret is round with a square front. It has a traverse of 360° and an internal diameter of about 48 inches. Its floor does not revolve. The traversing gear, which is fast and light in action, is operated by a wheel on the left-hand side of the gunner. The bulge at the rear of the turret is fitted for ammunition storage.
All main construction is riveted with the exception of the top of the superstructure, which is bolted. The turret front has a basic armor of 25 mm with an additional 25 mm plate. The front vertical plate is similarly armored; the side superstructure armor is 30 mm in thickneses.
The suspension consists of four 30-inch diameter rubber-tired wheels on two bogies with half elliptic springs, a high front sprocket 22 1/4 inches in diameter and a rear idler. There are two return rollers mounted well forward. The track is of the outside center guide type, with single pin secured by circular clip.
The tank is powered by a Praga T.N.H.P.S. O.H.V. 6-cylinder, water-cooled, gasoline engine, rated 125 h.p. at 2200 r.p.m. The ignition is Bosch magneto.
The armament consists of a 3.7 cm. gun and one light machine gun coaxial in the turret, and one light machine gun in the front superstructure.
SPECIFICATIONS
Weight
10 tons
Length
15 ft., 3 ins.
Width
7 ft.
Height
7 ft., 2 ins.
Ground clearance
15 ins.
Tread centers
5 ft., 9 1/2 ins.
Ground contact
8 ft., 6 3/4 ins.
Width of track
11 ins.
Pitch of track
4 1/2 ins.
Track links
89
Fording depth
3 ft.
Theoretical radius of action
Roads
140 miles
Cross-country
100 miles
Speed
Roads
26 m.p.h.
Cross-country
18 m.p.h.
Armor
Front plate
25 + 25 mm
Sides
30 mm
Armament
One 3.7 cm. gun
Two light M. G.'s
Ammunition (rds.)
Engine
125 h.p. Praga O.H.V.
Transmission
5 speeds forward, 1 reverse
Steering
Epicyclic clutch brake
Crew
4
German: p. 18