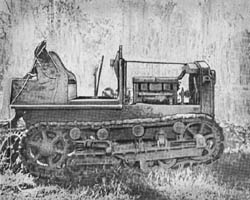 This is a slow speed tractor equipped with a towing hook and is believed to be the standard Japanese artillery prime mover. There are two bogies on each side, each bogie having three bogie wheels, two bearing on the outside and one on the middle of the tractor. Clutch and brake steering are provided. The power plant is a 4-cylinder, water-cooled, gasoline engine. The cylinder block is of two separate sections. Each section is joined into one piece at the top, but the base of each cylinder is separate from all other cylinders.
SPECIFICATIONS
Weight
Winch capacity
Length
Wheel base
85 ins.
Diameter of drive sprocket
26 ins.
Width of track
13 3/4 ins.
Length of track in contact with ground
89 ins.
Width of tread (from outside edge of tracks)
67 ins.
Engine
Kato, K-3, 70 h.p.
Bore
4.75 ins.
Stroke
6 ins.
Japanese: p. 18.6 (August 1, 1945)