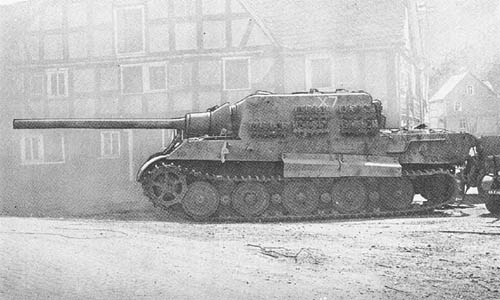 The Jägdtiger was the most formidable self-propelled antitank gun used by the Germans. It consists of a 12.8 cm PJK 44 (L/55) (less muzzle brake), mounted on a Tiger B chassis.
The hull consists of the normal Tiger B with a builtup superstructure to form a fixed turret. The front plate of the superstructure is 250 mm thick and slopes back at 15° to the vertical. It is made of one solid piece of cast steel armor. The sides of the superstructure are made in one piece with the sloped sides of the fixed turret and, like the Tiger B, are 80 mm thick sloped at 25 degrees. The rear plate of the superstructure is also 80 mm thick with a 10° slope.
The main armament consists of a 12.8 cm PJK 44 set in the center of the front plate of the built-up superstructure. It has a cast, bell-shaped gun shield similar in design to that of the 8.8 cm Kw. K. 43 on the Tiger B. The spherical housing of the gun cradle mounting pivots on a steel ball. The gun is electrically fired and has a vertical sliding breechblock. Separate loading ammunition is used, and the same cartridge case is utilized for armor piercing and high explosive rounds.
With A.P.C. ammunition, penetration of approximately 6 inches of armor at 1,000 yards at 30° is effected; with A.P.C.B.C. ammunition, the penetration is approximately 8 inches.
SPECIFICATIONS
Weight
77 tons
Length (overall)
23 ft., 11 ins.
Width (overall)
12 ft., 7 ins.
Height (overall)
9 ft., 3 ins.
Ground clearance
19 ins.
Tread centers
103/110 ins.
Ground contact
13 ft., 4 ins.
Width of track
26/31 1/2 ins.
Pitch of track
5.9 ins.
Track links
92 (46 double shoes)
Fording depth
69 ins.
Theoretical radius of action:
Roads
106 miles
Cross country
75 miles
Speed:
Roads
23.6 m.p.h.
Cross country
10 m.p.h.
Armor:
Front plate of superstructure
250 mm at 15° to vertical
Sides of superstructure
80 mm at 25° to vertical
Armament
12.8 cm PJK 44
Ammunition
A.P.C.; A.P.C.B.C.
Engine
Maybach HL 230
Transmission
8 speeds forward; 4 reverse
Steering
Two radius system
Crew
6
German: p. 40 (August 1, 1945)