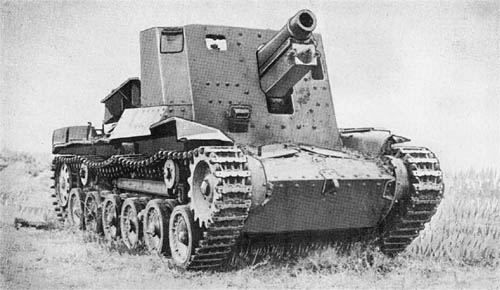 This weapon is the 38 year type (1905) 15 cm howitzer mounted on a medium tank chassis. The chassis resembles that of the Medium Tank Model 2597 (1937), Special, described on page 8.1. The armor is riveted in the characteristic Japanese fashion, and on the chassis is of the same thickness as on the corresponding tank chassis, with a maximum of approximately one inch. On the superstructure, the gun shield has one-inch frontal armor and one-half-inch side armor.
The vehicle uses the standard V12, air-cooled, diesel engine, and the type 97 medium tank suspension, consisting of six dual rubber-tired bogie wheels on each side. The weapon mounted on this vehicle is the type 38 (1905) 15 cm howitzer, a very short weapon. It has an interrupted screw breechblock opening to the right, and uses a percussion primer. The rifling is 58 inches long and has increasing right hand twist. The maximum range of the field howitzer is reported as 6,500 yards. The maximum elevation is 30 degrees.
A self-propelled vehicle mounting a gun of 75 mm or 105 mm caliber, employing the same chassis and with a superstructure somewhat resembling the present vehicle has been reported.
SPECIFICATIONS
Weight
15 tons
Length
18 ft.
Width
7 ft., 6 ins.
Height (overall)
93 ins.
Height of chassis
47 ins.
Height of shield
61 ins.
Ground clearance
14 ins.
Tread centers
6 ft., 7 ins.
Ground contact (approx.)
160 ins.
Width of track
13 ins.
Pitch of track
5 1/8 ins.
Track links
96
Fording depth
39 ins.
Theoretical radius of action:
Roads
100 miles
Cross country
Speed:
Roads
25 m.p.h.
Cross country
Armor: gun shield
Front plate
1 in.
Sides
1/2 in.
Armament
15 cm Howitzer, Model 38 (1905)
Ammunition (Rds).
Engine
V12, air-cooled, diesel
Transmission
4 speeds forward; 1 reverse (high and low range)
Steering
clutch brake
Crew
probably 5
Japanese: p. 8.2 (August 1, 1945)