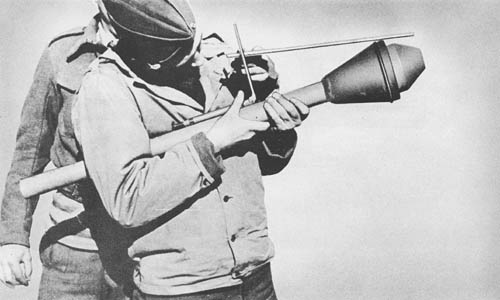 The German rocket grenade (Faustpatrone—literally "fist cartridge") is a new close-range Nazi weapon used against tanks and other armored targets. It comprises a tube and a head which contains the explosive charge. The weapon weighs 11 1/4 pounds, has a muzzle velocity of 145 f/s, and a sight range of 33 yards.
The head, which is closed at the front end by a sheet-metal cover, includes a semispherical hollow charge. Toward the rear, the head merges into a rod which includes the small detonating charge 34 and the fuze. The rear of the rod is screwed to a shaft containing four bomb-fins for flight stabilization of the rocket grenade. When not in use, the fins are rolled around the shaft and held together by the tube which is slid over it. The propelling charge is contained in the tube. A sighting rail, fixed to the front end of the tube, when folded down serves as the safety against involuntary cocking of the striker. The sighting rail itself is in turn secured to the rear by the Fuze Safety Pin, which holds it in folded-down position. The lock is located on a line extending from the sighting rail to the rear. It includes and carries the firing-pin (striker), release button, and safety catch.
For firing, the weapon is taken under the right arm, the left hand supporting the grenade two inches behind the front end of the tube. The fuze safety-pin is pulled out, and the sighting rail is snapped up, forming an approximate right angle with the tube. The striker is cocked by pushing the lock forward until the striker is set and the release button emerges. The lock then slides back into its original position, and the release button is pressed, discharging the projectile. Discharge is recoilless, and caution must be taken, as a stream of fire from one to two yards long is ejected from the rear of the tube. The launcher tube is expendable.
A smaller model is known as the Faustpatrone.
German: p. 218