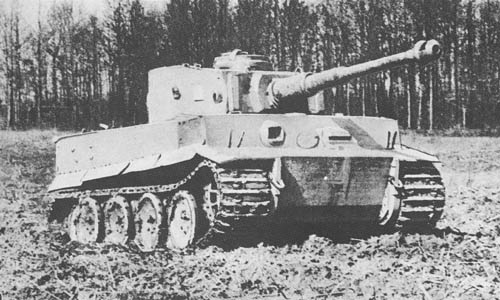 The Pz. Kpfw. VI was introduced into service by Germany in the latter part of 1942.
Its construction incorporates a notable departure from past German practice in that the superstructure is welded to the main hull instead of being bolted. The use of heavy armor called for flat plates wherever possible, resulting in a simple box-like contour. Another interesting development in construction involves plate interlocking, secured by welding, in addition to the normal step jointing. This has no doubt been made necessary by the use of thicker armor, which ranges from 102 mm in the front nose plate to 92 mm in the cast steel gun mantlet, and 80 mm in the side superstructure.
The hull is divided into four compartments. The floor of the fighting compartment is suspended from and rotates with the turret. The turret is centrally mounted between the hull side plates. A circular fixed cupola, with an inside diameter of 20 inches, is mounted in the turret roof.
The suspension consists of front sprocket, rear idler, and eight triple, rubber-tired bogie wheels 31 1/2 inches in diameter sprung on torsion bars. The wheel assemblies straddle each other in such a manner that the outer rims of four of the wheels on each side may be removed to accommodate the narrow (20 1/2 inch) transportation track. For combat a wider (28 1/2 inch) track is utilized.
The mechanical layout follows orthodox German practice. The Maybach, V-12, 642 hp. engine is mounted centrally at the rear.
The armament consists of an electrically fired 8.8 cm Kw.K. 36 with coaxial 7.92 mm MG 34 in the turret, a ball-mounted MG 34 in the vertical plate, a 9 mm machine gun stowed, six smoke generators, and three mine throwers mounted on the superstructure roof. The existence of a Model "P" has also been reported.
SPECIFICATIONS
Weight (in battle order)
63 tons
Length
(excl. gun) 20 ft., 8 1/2 ins.
Width
12 ft., 3 ins.
Height
9 ft., 4 3/4 ins.
Ground clearance
17 ins.
Tread centers
9 ft., 3 1/2 ins.
Ground contact
12 ft., 6 ins.
Width of track
28 1/2 ins.—20 1/2 ins.
Pitch of track
5 1/8 ins.
Track links
96
Fording depth
96 ft.
Theoretical radius of action
Roads
87 miles
Cross-country
53 miles
Speed
Roads
25 miles
Cross-country
15 miles
Armor
Front plate
102 mm at 70° to horiz.
Sides
80 mm at 80° to horiz.
Armament
8.8 cm Kw.K 36
2 MG 34's
M.V.
2624 f/s
Wt. of projectile
21 lb.
Ammunition
8.8 cm 92 rds.
MG's—5100 rds.
Engine
Maybach HL 210, V-12, 642 hp.
Transmission
Preselector, hydraulic—8 speeds forward, 4 reverse
Steering
Controlled differential, hydraulic
Crew
5
German: p. 38