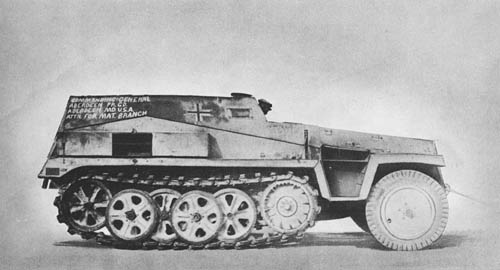 This is a light armored personnel carrier with the chassis of a 1-ton light semitrack. It is often used by antitank units and, towing a small trailer, by infantry units in motorized formations. The front of the chassis, with its pneumatic tires mounted on disk-type wheels, and the forward superstructure are similar to that of the ordinary motor car. The riding compartment at the rear is built low and has a seating capacity for six men including the driver. Four vision ports are provided, two in the front plate of the driving compartment and one at each side thereof. The thickness of the superstructure plate averages from 10 to 15 mm.
The vehicle is powered by a Maybach, 6-cylinder, water-cooled engine rated 100 horsepower. The transmission, of the semiautomatic preselective type, provides seven forward speeds and three reverse. The drive is taken to the final drive sprockets from the spiral beveled gear on the forward end of the lower gearbox shaft, through a gear train and a differential unit of the spur gear and pinion type. The steering brakes, utilized for turns over 15° are built into the gear train and act on the epicyclic reduction units.
The flexible track suspension consists of front sprocket and rear idler and four pairs of rubber-tired bogie wheels on each side. The front of the vehicle is mounted on two single pneumatic-tired wheels, fitted on an axle suspended by a single transverse semi-elliptic spring.
Armament for this vehicle is a machine gun mounted within a shield at the forward end of the riding compartment.
SPECIFICATIONS
Weight
5 tons
Length
15 ft.
Width
6 ft., 5 ins.
Height
6 ft., 6 ins.
Ground clearance
11 ins.
Tread centers
5 ft., 5 ins.
Ground contact
3 ft., 11 ins.
Width of track
9 1/2 ins.
Pitch of track
6 5/16 ins.
Track links
38
Fording depth
27 ins.
Theoretical radius of action
Roads
190 miles
Cross-country
130 miles
Speed
Roads
Cross-country
Armor
Front plate
15 mm (approx.)
Sides
10 mm (approx.)
Armament
M.G. 34
Ammunition
Engine
Maybach, 6-cyl., 100 hp. HL 42 TRKM
Transmission
Preselective—7 forward speeds, 3 reverse
Steering
15° and over, epicyclic controlled differential
Crew
6
German: p. 44