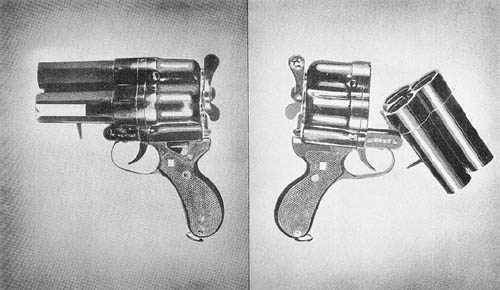 The triple barrel signal pistol, of naval design, is made of steel with black baked enamel finish and is equipped with plastic grips. It consists of three main parts: the barrel assembly, the firing mechanism housing, and the receiver. The barrels, which are slightly tapered and of the smooth bore type, can be fired only singly. The left barrel is marked with a red stripe, the top barrel with a white stripe, and the right barrel with a green stripe. The various kinds of ammunition used with the weapon (red, white, and green flares) must correspond with the color markings on the barrel. The weapon is carried in a leather holster.
The pistol is opened for loading by pulling forward on the spring-loaded barrel release lever and forcing downward on both ends of the pistol. Movement of the safety lever upward places the gun in the firing position; downward movement of the lever places the gun in the safe position. A counter-clockwise movement of the cocking lever cocks all three spring-loaded firing pins. Each firing pin has its own sear, and movement of the barrel selector lever to the desired stop directs the movement of the trigger to the proper sear, releasing the proper firing pin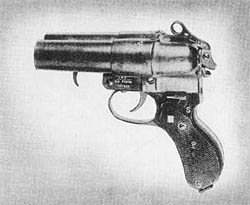 and firing the round in the selected barrel. The three stops on the barrel selector lever are as follows: the left hand stop for the left hand barrel, the central stop for the top barrel, and the right hand stop for the right hand barrel.
The barrel assembly and firing mechanism recoil on the receiver during firing against the action of a recoil spring located in the receiver.
A double barrel version of this pistol is shown at the right.
SPECIFICATIONS
| | | |
| --- | --- | --- |
| Weight of pistol | | 3 lbs., 11 ozs. |
| Length of barrel (approx.) | | 4 ins. |
| Bore diameter at muzzle | | 26.8 mm |
| Bore diameter at breech | | 28.4 mm |
| Types of ammunition used | | Red, white, & green flares |
Japanese: p. 204.3 (August 1, 1945)