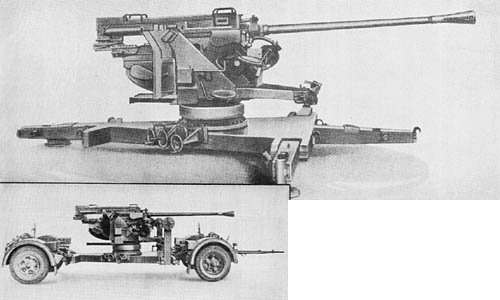 This gas-operated, automatic, antiaircraft gun is transported on two-wheeled transporters. To put the gun into action, the platform is lowered from the transporters by means of winding gear. The two transverse legs are lowered and the platform is roughly leveled with jacks. The final leveling is done with leveling screws in the base ring of the mounting. The barrel is removable for easy replacement in the field. The right hand twist of the rifling increases from one in 36 1/2 to one in 30 calibers.
The breech mechanism is similar to that of the 3.7 cm Flak 43. It differs in that the breech block drops into the closed position from the open position. The dropping of the block allows buttress guides on the block to engage with similar guides on the jacket. This locks the block in the firing position and prevents any rearward movement. The feed mechanism is operated by the recoil of the breech casing. The recuperator consists of two spiral springs which are mounted side by side in the cradle. The buffer is mounted centrally in the cradle.
The traversing gear and the sight are on the right hand side of the mounting. The sight bracket is connected by means of a parallel motion link to a cross shaft. Here it is keyed to a pointer on the elevation scale. The gun elevating gear is on the left side of the mounting. This is also connected to a pointer on the elevation scale. The layer keeps the two pointers in line and the gun is laid at the same angle of elevation as the sight.
SPECIFICATIONS
| | | |
| --- | --- | --- |
| Caliber | | 5 cm (1.97 ins.) |
| Weight (traveling position) | | 7.18 tons |
| Weight (firing position) | | 4.30 tons |
| Length (traveling position) | | 27 ft., 5.5 ins. |
| Length (firing position) | | 19 ft., 10 ins. |
| Height (traveling position) | | 7 ft., 1 in. |
| Height (firing position) | | 7 ft., 4 ins. |
| Width (overall-traveling) | | 7 ft., 10 ins. |
| Width of trail spread | | |
| Length of gun (incl. muzzle brake) | | 184.5 ins. |
| Length of gun (excl. muzzle brake) | | 170.8 ins. |
| Length of rifling | | 117.28 ins. |
| No. of grooves | | 20 |
| Width of grooves | | 0.160 in. |
| Depth of grooves | | 0.020 in. |
| Width of lands | | |
| Muzzle velocity (H.E. shell) | | 2,756 f/s |
| Firing mechanism protrusion | | 0.1 in. |
| Max. range (horizontal), APCBC | | 11,300 yds. |
| Max. range (vertical), APCBC | | 8,600 yds. |
| Effective ceiling | | 10,000 ft. |
| Rate of fire | | 130 r.p.m. |
| Traverse | | 360° |
| Elevation | | 90° |
| Depression | | -10° |
| Length of recoil | | 7 ins. (approx.) |
| Ammunition | | H.E. 41/tracer; Incendiary/H.E. 41/tracer; A.P.C.B.C. 42 |
| Wt. of projectile | | H.E.—4.8 lbs. |
| | | A.P.—4.87 lbs. |
| Tracer burn out point | | Short (8 sec.) 2,740-3,750 yds. |
| | | Long (18 sec.) 5,400-6,120 yds. |
German: p. 125 (June 1, 1945)