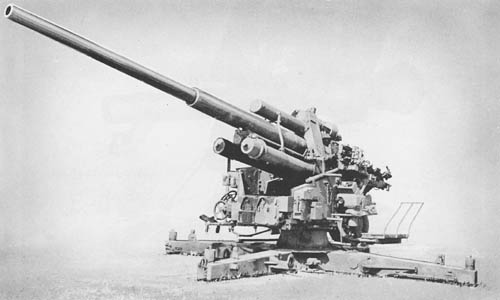 This gun, of which two models are in service, is the standard German heavy antiaircraft weapon. While this is its primary use, it is also provided with antitank sights and A.P.C. shells. It is produced in both static and mobile versions and is also mounted on railed vehicles.
Its horizontal range is slightly greater than the 88 mm Flak, but it does not possess as great a vertical range. Elevation, depression, and traversing are the same as in the 88 mm gun.
Both the loading and fuze-setting mechanisms are power operated. The carriage has two outriggers which are folded up for transport. The traversing and elevating gears have two speeds for manual operation; provision is also made for power operation.
There are three types of ammunition fired in this weapon:
(a) H. E. Shell with Time Fuze—(10.5 cm SPGR. L/4.4 mit ZT.Z.S./30)
This shell is fuzed for antiaircraft firing and is fitted with the same clock-work fuze, the ZT.Z.S./30, that is used with the 8.8 cm AA ammunition.
(b) H.E. Shell with Percussion Fuze
(c) A.P.C. Shell
The following are estimated penetration figures for the weapon firing an A.P.C. Shell against homogeneous armor:
Range
Thickness of Armor
30°
Normal
1,000 yds.
(5.5 ins.)
(6.5 ins.)
1,500 yds.
(5.1 ins.)
(6.0 ins.)
2,000 yds.
(4.7 ins.)
(5.6 ins.)
SPECIFICATIONS
Caliber
10.5 cm (4.14 ins.)
Length of tube
21 ft.
Weight (travelling position)
13.8 tons
Weight (firing position)
9.8 tons
Length (travelling position)
27 ft., 7 ins.
Length (firing position)
Height (travelling position)
9 ft., 6 ins.
Height (firing position)
71 in.
Width (overall); (travelling position)
96 ins.
Width of trail spread
Length of bore
18 ft., 2 ins.
No. of grooves
36
Width of grooves
.23 in.
Depth of grooves
.05 in.
Width of lands
.13 ins.
Muzzle velocity (H.E. shell)
2,887 f.s.
Max. range (horizontal)
19,355 yds.
Max. range (vertical)
13,914 yds.
Rate of fire
12-15 r.p.m.
Traverse
360°
Elevation
+85°
Depression
-3°
Length of recoil (H.E.)
31 3/8 ins.
Ammunition
H.E. and A.P.
Wt. of projectile
(H.E.) 33.2 lb
German: p. 109