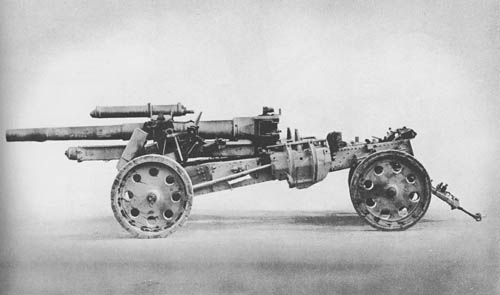 This howitzer has been in use by the German Army since before 1939, and is soon to be replaced by the s.F.H. 42. It has a horizontal sliding breechblock mechanism, and a hydropneumatic recoil mechanism.
This gun is mounted on the Pz. Kpfw. IV tank chassis, also on the French Lorrain tank chassis. A captured document states that the new s.F.H. 42 gun is fitted with a muzzle brake and bored-out chamber for use with charge 8 ammunition. The s.F.H. 42 gun uses the same range table as the s.F.H. 18 gun.
The gun is generally tractor-drawn with a two-wheeled limber attached to the trails. The tube is moved out of battery into transport on the cradle. Braking the piece in transport can be accomplished either by hand or by air brakes controlled from the prime mover.
The tube is of monobloc construction fitting into a reinforcing jacket. The breech ring is secured to the jacket and receives the horizontal sliding breechblock. Located above the tube is the counterrecoil cylinder and the lower cylinder under the tube brakes the gun in recoil and serves as a buffer in counterrecoil. A cooling jacket is found around the recoil cylinder.
The carriage interchangeable with the 10 cm (s. 10 cm K 18) med. gun is constructed of welded and riveted steel with split trails mounted on solid rubber tires. Detachable spades for soft soil are attached to the rear end of the trails when desired but are mounted to the side of the trails in transport.
SPECIFICATIONS
Caliber
14.9 cm (5.91 ins.)
Length of tube
Weight (travelling position)
8.8 tons
Weight (firing position)
6 tons
Length (travelling position)
Length (firing position)
Height (travelling position)
Height (firing position)
Width (overall)
Width of trail spread
Length of bore
142.6 ins.
No. of grooves
40 right hand twist
Width of grooves
Depth of grooves
Width of lands
Muzzle velocity (shell)
1,705 f.s.
Max. range (horizontal)
14,570 yds.
Max. range (vertical)
Rate of fire
4 rds. per min.
Traverse
60°
Elevation
45°
Depression
Length of recoil
44.09 ins.
Ammunition
H.E. (3 types—anticoncrete—smoke (2 types)—A.P.
Wt. of projectile (H.E.)
95.7 lb.
German: p. 105