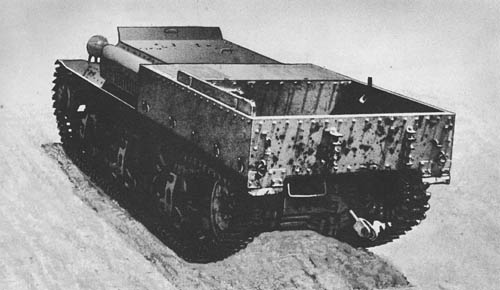 The chassis of this vehicle is divided into the driving compartment at the front, the engine compartment in the center and an open-welled tray at the rear. The driving and engine compartments are armored on the sides and top; the rear compartment is armored on the sides only. The superstructure plates over the driving and engine compartments are bolted, whereas the sides of the rear superstructure are of riveted construction. With the exception of the cast nose plate and pressed steel cover, all the plates are flat and are riveted or bolted together over angle sections. There are no formed plates or welded joints. The armor thickness of the original carrier is as follows: Nose of hull 12 mm; front sloping plate 9.5 mm; sides 9 mm; back 9 mm.
The chassis is suspended from three semi-elliptical leaf springs on each side. The load is transmitted from the central point of each spring through supporting members to each of three pairs of bogies on each side. The bogie wheels are of the single, rubber-tired type 17.5 inches in diameter. Adjustment of the outside center guide track is provided by a movable rear idler. The driving sprocket is at the front and the track is returned on four return rollers positioned at the extremities of the semi-elliptical springs.
The power unit is the Delahaye, straight 6-cylinder, water-cooled, gasoline engine rated at 80 h.p. It has a bore of 84 mm and a stroke of 107 mm. The transmission is mounted centrally to the right of the driver. It provides five forward speeds and one reverse, the fifth speed being direct. The steering unit is housed in a large steel casting which forms the front plate of the vehicle. The brakes of external contracting type are mounted on the differential unit and therefore operate in oil.
SPECIFICATIONS
Weight
Length
12 ft., 6 ins. (approx.)
Width
5 ft., 10 ins.
Height
Ground clearance
7 ins.
Tread centers
4 ft., 4.6 ins.
Ground contact
9 ft.
Width of track
8.5 ins.
Pitch of track
3.18 ins.
Track links
109
Fording depth
Theoretical radius of action
Roads
Cross-country
Speed
Roads
21 m.p.h.
Cross-country
Armor
Front plate
12 mm
Sides
9 mm
Armament
Ammunition (rds.)
Engine
Delahaye, 6-cyl., water-cooled, gasoline, 80 h.p.
Transmission
5 speeds forward, 1 reverse
Steering
Controlled differential
Crew
German: p. 17