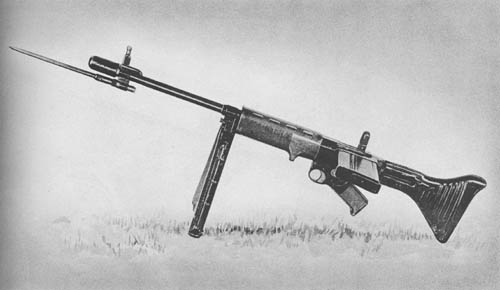 The German Paratroop Rifle, F.G. 42, 7.92 mm (Fallschirmjäger Gewehr 42) is a gas-operated, magazine-fed, semi-automatic or full-automatic weapon. It was designed originally for paratroop use, but undoubtedly will find a wider use with ground troops. It can be employed as a submachine gun, a rifle, or a light machine gun as occasion indicates. The action design is very similar to that of the well-known Lewis light machine gun. The sear mechanism is designed to fire the gun semi-automatic from a closed bolt and full-automatic from an open bolt.
This weapon is unusual in construction and light in weight. The butt is made of stampings of 16 gauge sheet metal, ridged to prevent slipping and to add structural strength. The receiver is of high quality machining. The magazine opening is on the left side and the ejector opening on the right side. The trigger guard and pistol grip are stampings and the whole assembly is inclined at a 10° angle in order to give a comfortable grip to the firer. The hand guard is wood, with holes slotted in the upper side to facilitate cooling, and with milled ridges to prevent slipping in the grasp. The bipod is also a metal stamping and is hinged to the barrel collar. The bipod legs fold forward to form a protective housing for the bayonet underneath the barrel.
The 19-inch barrel is machined with 4 lands and grooves; there is no quick-change barrel feature to this weapon. A combination flash hider and compensator is affixed to the muzzle. The magazine is a removable box type holding 20 rounds. The gun may be operated either semi-automatic or full-automatic by use of a change lever which also acts as a safety lock.
SPECIFICATIONS
| | | |
| --- | --- | --- |
| Caliber | | 7.92 mm (.312 in.) |
| Weight | | 10 3/4 lb. loaded |
| Length | | 35 1/2 ins.; with bayonet, 42 3/4 ins. |
| Length of barrel | | 19 ins. |
| Action | | Gas-operated, semi-automatic, or full-automatic |
| Capacity | | 20 rds. |
| Ammunition | | 7.92 mm Mauser, ground types |
| Rate of fire | | 600 rds./min. cyclic |
German: p. 209