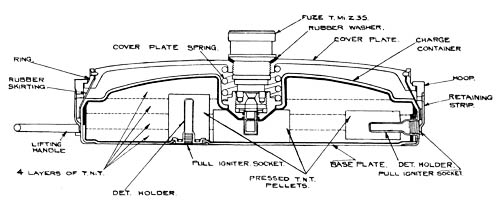 There are two models of the type 1 Teller Land Mine. Both types, which are painted olive drab, consist of a flat, circular bottom plate, a steel dome-shaped body which contains the bursting charge, an aluminum retaining ring into which a rubber sealing ring is assembled, and a cast aluminum top, also slightly dome-shaped. A formed iron wire handle is attached to the side wall by welded steel straps.
The bursting charge is initiated by action of the pressure igniter which is screwed into the well cup in the top of the mine. This igniter is cylindrical in form, 2.3 inches long, and 1.625 inches in diameter. A heavy compression spring, located inside the well, is held in position by a forward lip on the underside of the top of the mine. Two other well cups, one through the sidewall and one through the bottom plate, are provided for use when auxiliary pull-type igniters are assembled. On the body cover, concentric with a brass setting screw, are stamped two arrows, one pointing to the "Scharf" (armed) marking, and the other to the "Sicher" (safe) marking. A red spot .1 inch in diameter on the head of the setting screw is used to aline the setting mechanism with the index marks.
The only difference between type 1a and type 1b is in the loading of the bursting charge. Type 1a contains a 10.55 pound charge of pressed TNT; type 1b contains an 11.41 pound charge of cast TNT and three large PETN booster pellets imbedded in the bursting charge. Each pellet has a cavity into which a detonator well is assembled.
SPECIFICATIONS
| | | | | |
| --- | --- | --- | --- | --- |
| | | Type 1a | | Type 1b |
| Diameter | | 12.75 ins. | | 12.75 ins. |
| Height | | 3.50 ins. | | 3.25 ins. |
| Weight | | 19.25 lb. | | 21.20 lb. |
| Bursting charge | | Pressed TNT | | Cast TNT |
| Bursting charge weight | | 10.55 lb. | | 11.41 lb. |
| Booster pellets | | | | 3 PETN |
German: p. 301