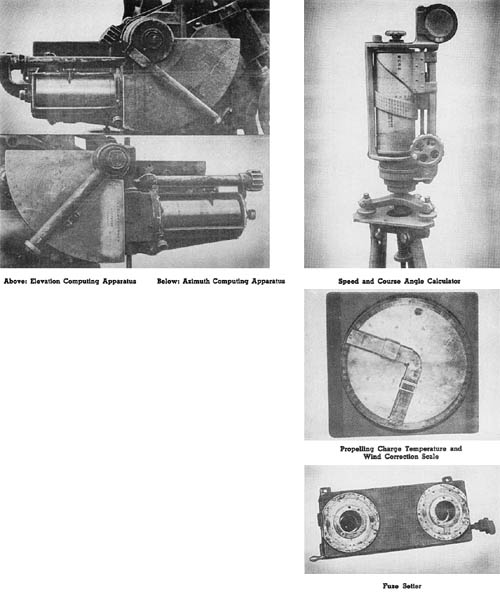 These instruments are used with the Mobile Field Antiaircraft Gun described on page 110. The method used to predict the future position of a moving target in space differs from both the angular rate of travel and the linear speed methods, although based on the latter. Antiaircraft installations captured before the middle of 1944 showed very little use of computing directors and remote control systems. The system described herein is apparently all that was available.
The following instruments and computing mechanisms are employed in the system as off-carriage components:
a. Two-meter-base height and range finder.
b. Speed and course angle calculator.
c. Charge (propelling) temperature and wind corrector scale.
d. Spotting binoculars.
The data computed with the off-carriage components are transmitted orally to the gun where they are manually registered in the on-carriage fire control instruments. The on-carriage components consist of the following:
a. Elevation computing apparatus.
b. Azimuth computing apparatus.
c. Auxiliary elevation and lead corrector disc.
d. Fuze setter.
The accompanying illustrations show five of the significant components.
Japanese: p. 185 (April 1, 1945)