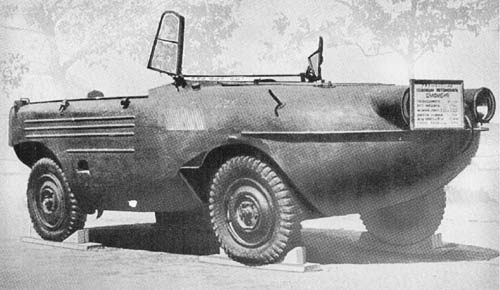 Development of this vehicle began prior to 1939 at the Trippelwerke Hamburg Saar. According to German press reports, in 1941 Mr. Hans Trippel, the inventor, made improvements over his earlier models as a result of experiments and his plant prepared to go into mass production. The above vehicle was manufactured in 1942. Field examination shows that the application of its design to combined land and water transportation is successful. Simplicity of design throughout makes it possible to produce the vehicle in large quantities very easily.
The body is arranged with a front engine compartment, a center crew compartment, and a rear stowage compartment. Water sealing is accomplished by means of rubber seals throughout. The only openings in the rear of the body are for the wheel and propeller drive and for the shafts of the shock absorbers. In the front of the body there are three openings on each side as follows: one for the shock absorber rod, the radius rod, and for the wheel drive.
Four-wheel drive with independent double coil spring suspension contributes to the cross-country mobility which is said to be remarkable. The shock absorbers are mounted inside the hull and connect with the suspension through an auxiliary shaft that is stuffing box sealed.
A special transmission is provided with three speeds forward and one reverse for highways plus three speeds forward and one reverse for cross-country and a forward and reverse gear for operation in the water. The three-bladed propeller is lowered to position when in the water and is protected inside the body work when on land. Steering is accomplished by front wheels. A one-shot lubrication system is operated from the dash.
SPECIFICATIONS
| | | |
| --- | --- | --- |
| Weight (net) | | 3,860 lb. |
| Cargo capacity (land) | | 2,400 lb. |
| Cargo capacity (water) | | 2,100 lb. |
| Length (overall) | | 190 ins. |
| Width (overall) | | 71 ins. |
| Height (overall—top of windshield) | | 74 ins. |
| Ground clearance | | 15 ins. |
| Tread center to center | | 58 1/2 ins. |
| Tire (Continental, cross-country type) | | 6.00 x 18 ins. |
| Wheel base | | 98 ins. |
| Freeboard | | 12 ins. |
| Speed (highway) | | 44 m.p.h. |
| Speed (water) | | 6-10 m.p.h. |
| Radius of action (land) | | 130 miles |
| Radius of action (water) | | 46 miles |
| Fuel tank | | 15 1/2 gal. |
| Fuel consumption (land) | | 9.7 m.p.g. |
| Fuel consumption (water) | | 4.35 m.p.g. |
| Engine | | Double radiator, water-cooled, details unknown. |
| Brakes | | 4-wheel hydraulic |
| Crew | | 5 |
| Ignition and Electrical System | | 12-volt Bosch |
German: p. 58.2