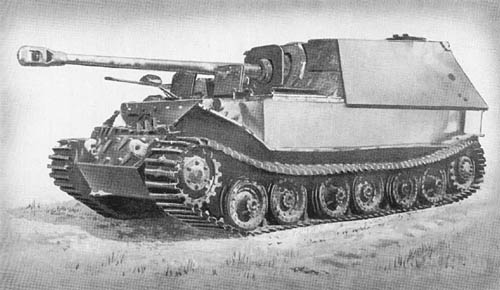 The "Elephant," weighing 72 tons, was the first of German heavy self-propelled antitank guns to be manufactured. It was designed and built under the supervision of Dr. Ferdinand Porsche and was first introduced under the name of "Ferdinand" in the Summer of 1943. The vehicle is actually improvised to utilize an unsuccessful tank produced by Dr. Porsche. Ninety of these vehicles were so converted. The armor is approximately 8 inches thick in the front of the hull and the sloping fighting compartment. The sides of the hull are 2 1/2 inches, the fighting compartment 3 3/4 inches thick; while the rear plates of the hull are 4 1/3 inches, and the fighting compartment 3 1/3 inches. The roof of the fighting compartment and belly plates are approximately 1 1/2 inches thick.
The "Elephant" is powered by two 12-cylinder Maybach H.L. 120 T.R.M. engines mounted centrally in the hull. From the engine the drive is taken forward directly to generators and thence to electric driving motors having a capacity of 230 Kw. at 1,300 r.p.m. which are mounted across the rear of the vehicle, under the floor of the fighting cab.
The suspension consists of six dual bogie wheels 26 3/4 inches in diameter on each side, mounted in pairs on stub axles which are bolted and welded to the hull; rear drive sprocket, and front idler. There are no return rollers.
The armament consists of a long-barreled 8.8 cm gun, with muzzle brake. It has an overall length of 22 feet, 11.63 inches, of which 13 feet, 1 1/2 inches projects beyond the mantlet. The gun is mounted on trunnions 8.8 cm in diameter which are located inside the ball joint in the front armor plate of the fighting compartment. The maximum elevation of the piece is 25°; traverseis 12° left and right.
SPECIFICATIONS
Weight
72 tons
Length
22 ft., 11 ins.
Width
11 ft., 5 3/4 ins.
Height
9 ft., 10 ins.
Ground clearance
19 1/2 ins.
Tread centers
Ground contact
Width of track
25 1/2 ins.
Pitch of track
5 ins.
Track links
Fording depth
Theoretical radius of action
Roads
65 miles
Cross-country
35 miles
Speed
Road
12.5 m.p.h.
Cross-country
6-9 m.p.h.
Armor
Front plate
200 mm
Sides (hull)
60 mm
Armament
8.8 cm Pak 43/2
MG 34
Ammunition
8.8 cm gun—70-90 rds.
MG—2,000 rds.
Engine
2 Maybach HL 120 TRM, 320 hp. each
Transmission
Gas-electric, D.C. current, 650 amps @ 385 volts.
Steering
Field control
Crew
6
German: p. 39 (August 1, 1945)