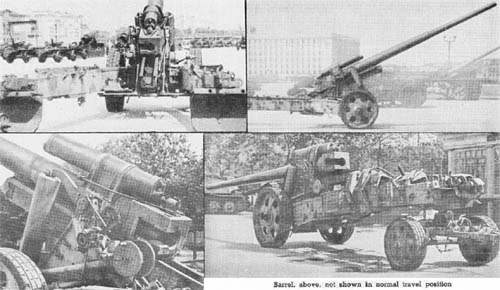 The K. 39 was gradually replacing the K. 18 as Germany's standard medium mobile artillery weapon. It is basically the same design as the earlier model, and has an identical range, muzzle velocity, and chamber pressure. Modifications to the piece, while extensive, were confined largely to the carriage, which resembles the 15 cm s.F.H. 18, page 105.
The tube is approximately two inches longer than that of the K. 18, and the rifling was changed from a 6° constant twist to a variable one, increasing from 4° 17′ to 5° 59′. The breech mechanism is of the horizontal sliding block type. The hydraulic recoil cylinder is apparently the same as that on the K. 18, but the hydropneumatic counterrecoil cylinder is shorter and larger in diameter than that of the earlier model. Length of recoil varies from 1250 mm to 1500 mm (49.2 inches to 59.2 inches). The equilibrators of both the K. 18 and the K. 39 are of the push type, but those on the K. 39 are spring activated. Elevation and traverse are accomplished in much the same manner, changes being principally in the location of the handwheels. A rigid gunners' platform constructed of a non-skid open steel lattice work is bolted to the upper carriage. Although awkward in appearance, it performs the function for which it was intended without hampering the movements of the crew about the gun.
Traverse has been increased from 12° to 60° by the use of a split trail with detachable spades instead of the box-type trail used on the K. 18.
SPECIFICATIONS
Caliber
149 mm
Weight (traveling position)
Weight (firing position)
27,300 lbs.
Length (traveling position)
Length (firing position)
Height (traveling position)
Height (firing position)
Width (overall)
Width of trail spread
Twist of rifling—increasing
4° 17′ to 5°
Length of barrel
325 ins.
Length of rifling
256.6 ins.
Volume of chamber
1,829 cu. ins.
M uzzle velocity
2,840 f/s
Max. range (horizontal)
24.7 km
Rate of fire
Traverse
60°
Elevation
45°
Depression
4°
Length of recoil (max.)
1,500 mm
Ammunition types
H.E.; anticoncrete, APHE
Weight of max. charge
41.2 lbs.
Weight of projectile (HE)
94.6 lbs.
German: p. 104.4 (June 1, 1945)