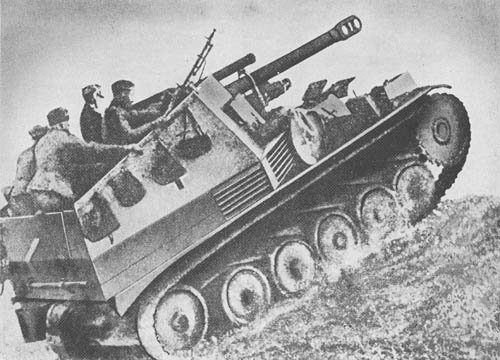 This equipment, known as the "Wasp," consists of the 10.5 cm. light field howitzer mounted on a chassis which, with the exception that there are only three return rollers, is that of a normal Pz. Kpfw. II tank, Models A-C, with five bogie wheels. Its road performance approximates that of the Pz. Kpfw. II tank.
The gun is the 10.5 cm. 1.F.H. 18 M with muzzle brake. It is mounted at the rear of the chassis within an open top box type shield which is 10 mm thick, its muzzle brake being almost flush with the front of the chassis. Its recuperator and buffer mechanisms, mounted on the bottom and top of the barrel, respectively, are clearly visible beyond the shield. Overlapping the gun shield and sloping back to the rear of the superstructure are side plates, also 10 mm thick. The fighting compartment is open at the top and rear. Its silhouette is high.
The piece has a normal-charge muzzle velocity of 1542 f.s. and a maximum range of 11,650 yards. Firing the long range charge (Fern-ladung) the gun has a muzzle velocity of 1772 f.s. and a maximum range of 13,500 yards. All charges, except the long range, can be fired without the muzzle brake. It has a traverse of 32° and an elevation of -5° to +42°. It is reported to fire four types of ammunition, the 32.6 lb. HE (F. H. Gr.—Feldhaubitze Granate—field howitzer shell), the cast steel HE (F. H. Gr. Stg.—Stahlring—steelring), the 25.9 lb. hollow charge (10 cm. Gr. 39 rot Rohl Ladung—red hollow charge), and a 32.5 lb. smoke shell.
SPECIFICATIONS
Weight
12 tons
Length
15 ft., 9 ins.
Width
7 ft., 4 ins.
Height
7 ft., 10 1/2 ins.
Ground clearance
13 ins.
Tread centers
6 ft., 2 ins.
Ground contact
7 ft., 10 ins.
Width of track
11 1/8 ins.
Pitch of track
3 5/8 ins.
Track links
Fording depth
3 ft.
Theoretical radius of action
Roads
125 miles
Cross-country
70 miles
Speed
Roads
24 m.p.h.
Cross-country
Armor
Front plate
Sides
Armament
10.5 cm. l.F.H. 18 (M)
Ammunition (rds.)
Engine
Maybach HL 62 TR, 140 h.p.
Transmission
6 speeds forward, 1 reverse
Steering
Epicyclic clutch brake
Crew
German: p. 14